UAB alumni talk about studying abroad on Instagram live
Our recent Instagram Live Broadcast with INTO University of Alabama at Birmingham (UAB) alumni Felipe from Brazil and Lingu from India was a huge success. We had hundreds of viewers tuning in to hear about the rewards of studying abroad, what it's like to live and study at UAB and advice for incoming students.
UAB alumni Filipe and Lingu became good friends during their Graduate Pathway program before progressing to their engineering degrees. Filipe has a new job as a quality engineer at a company based in Austin, Texas that works with tech giant Google. He graduated in spring 2020 with his master's in electrical engineering. Lingu is a student ambassador at UAB, student assistant at the INTO learning resource center and finishing his master's in civil engineering.
Here's how their study abroad experience helped them become what they are today . . .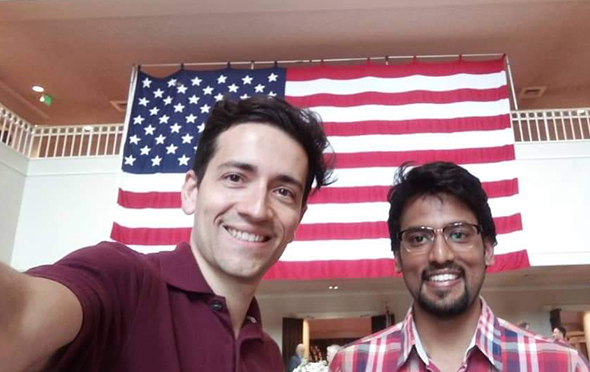 What has your experience been like at INTO UAB?
Filipe: ". . . As an INTO student you get so much welcome by the INTO staff and you get so much taken care of from them as well. They are always sending updates on your email and asking how things with you and stuff are. When you enroll in their classes, like the English class for example me and Lingu had (they call them Academic English class), you get to have friends there. So, they are kind of your first friends when you get to this new place."
Lingu: "INTO UAB used to organize some free food stuff. Food from India, food from China, food from Taiwan. It was so fun at that kind of gatherings. A lot of internationals used to come, and we used to get to know not only internationals, but Americans as well. We used to get to know each other from that kind of meeting. It was a really great setup with that and the assistant at the front desk [of the INTO UAB Center]. Whatever you need, you just go there and they're ready to help you with whatever questions you have. Yeah, it's a great, great experience to be here at INTO UAB."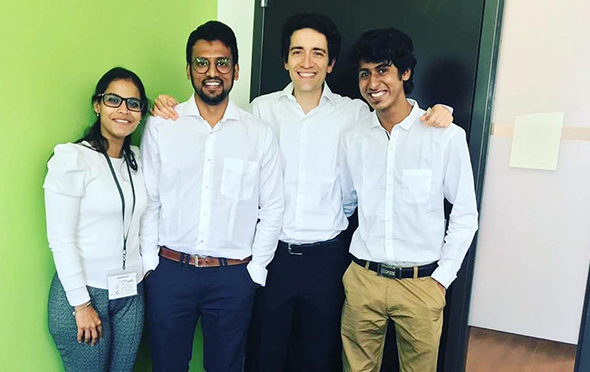 What skills needed for the workplace did you learn at INTO UAB?
Filipe: "There are a lot of skills that you learn in general in the Academic English class. First, we need to know how to speak the language properly, like formally as well. Whenever you're writing an email or a report and stuff, you need to know the grammar rules and everything correctly. Those things of course you learn in the English class. Even if you have good English already, the INTO Academic English class is important for you to learn what professors and the academic world is expecting from you here in the US."
Lingu: "I do agree. They really did a good job on how to write emails and how to write reports and all this stuff. Like, you know the funny thing is when I got here, I was very bad in English. I learned a lot of good stuff being around INTO UAB and in the class as well. Even though I'm not perfect, I'm trying to be perfect."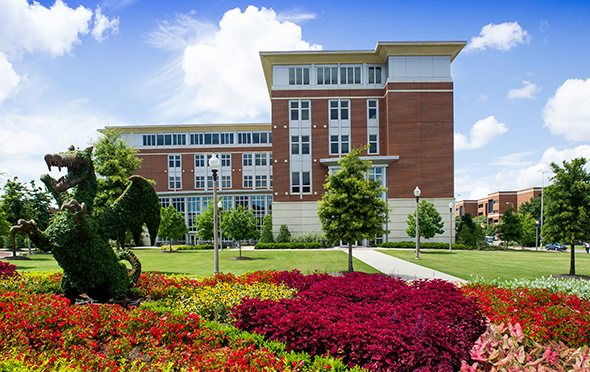 Did everything turn out to be as you imagined it?
Filipe: "Yeah, I couldn't imagine everything that would happen. It's too hard. Even though I have traveled abroad before. But like, definitely coming here there were so many different things. Alabama, it's a great place. I love the people of Alabama. I think they are the friendliest people from the places I have traveled before. For real. They are so kind. The people walking on the street say, they ask you, 'how are you doing?' They have many people that live around campus. UAB, it's really well located because it's in the city itself of Birmingham."
Lingu: "I totally agree with Filipe. This place is really cool and also the cost of living is so cheap, not like other big cities like Boston or New York. There's opportunity for hiking and other fun activities."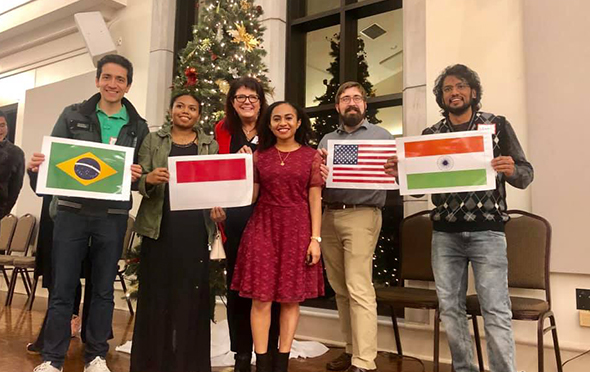 What are your top tips for others thinking about studying and working in the US?
Filipe: ". . . Don't be afraid of mixing, don't be afraid of sharing, going with the locals, with the people that are from here, with Americans. Don't be afraid to go with people from other places in the world. That's really important. That's why you're here."
Lingu: "Yeah, I totally agree with your point. I've seen a lot of people come here and it'll be their own committee from the same country. They won't, they're really not exposing themselves to others. I feel they should do it. I personally learned a lot of things from going out with Americans, talking with them."
Filipe: "Yeah, can we talk a little bit about how we are living right now. Right, Lingu? We are living with two Americans. We have this small apartment, me and Lingu. I live in one bedroom, Lingu lives in the other one. But I share my bedroom with an American friend and Lingu also shares with another American friend."
Lingu: "I mean, it's a really great place for me to learn many cultures. Once you're here, you have a lot of culture shock. When you go out with Americans and get a chance to talk to them, you will welcome that culture shock. That's really needed. I would really suggest that for the people who are coming and who are already here. Communicate with people and start to live life with other country people, not from your own country."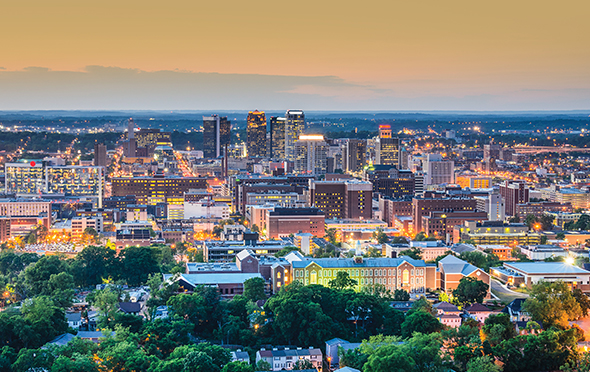 Why is it important to connect and share your international experience with others at INTO?
Filipe: "I would say that we live in a world that is getting more and more connected. Even though during times of COVID it's kind of hard to say that, but we need each other from different places, and we are always working with each other. Now, English is the dominant language. If you have English, you can travel all over the world and talk to people and stuff. Definitely we need to know how to behave and treat different cultures, and how to understand people with different thoughts, different ideas, and different experiences."
Lingu: "You're right. Especially the INTO UAB celebrations. I'm from India. I wanted to talk about the Indian celebration, Diwali. It's a very grand celebration they do [in India], and they [the INTO UAB Center] bring food from Indian restaurants and you know a lot of people are coming there. It's fun, it's a great place to celebrate your festival or any culture in that environment. INTO UAB is really doing a good job with respect to that [cultural exchange]."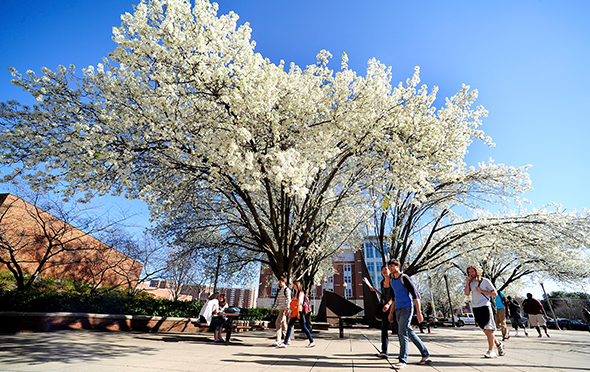 How did you overcome your fears of studying abroad?
Filipe: "You just do it. You are fearful. You don't know if you'll be able to do your homework or if the professor will understand you. But you have to try. You have to really go out and try and see what other people doing as well. Understand they are struggling as well. Cause sometimes you think, 'Oh, it's just me, oh, I don't understand this class, I don't understand this professor.' Like, if you're having a hard time to understand something, most of the people around you are doing that too."
Lingu: "Yea, I absolutely agree with that. There are a lot of fears once you come to a different country and you have a lot of things you have to do yourself from cooking to your studies and everything. Eventually, your fears really come down once you realize, once you get adjusted to the surroundings. That's why the surroundings are very, very important for everything. Having good surroundings is really healthy. The people who are coming for INTO UAB I would highly recommend go to the INTO UAB lobby."
Also check out our story on Anagha and Ryan's careers after graduating from UAB, 10 steps to becoming a Birmingham local, or Top 5 reasons to study at UAB
To find out what's happening at INTO UAB, follow us on Instagram, Facebook, and watch our YouTube videos about Rushi's UAB experience or Dishant's study abroad journey
Want to study at The University of Alabama at Birmingham? Click here to learn more and apply for a course.