10 Questions, 1 Teacher: INTO China at Nankai University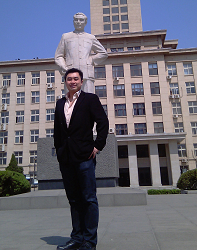 To kick off our 10 Questions, 1 Teacher series, we spoke to Dr. Sun Puyang, a Nankai University professor who teaches on the International Economics and Business Masters Programme at INTO Nankai University. Find out what he thinks of studying abroad and what he expects from his international students…
1. Why did you want to study Economics?
I knew it was a degree I could be proud of because Economics will always be relevant, important, and many of my favorite professors who I looked to as role models had degrees in Economics.
2. Why did you decide to study abroad rather than in your home country?
My father was a business man in international trade who urged me to study abroad. I spent most of my studies abroad in the United Kingdom and I learned that your experience does not depend on the place you are but the people surrounding you. Don't be shy to ask for help when you are living somewhere new – it makes the experience better and helps you to make friends.
3. As a professor who is from China but studied in the UK, how do you think the teaching styles differ?
The Chinese education system is at a different stage of development than in the UK. The differences are mostly in the politics and culture.
4. What are the benefits for an international student to study in China?
Firstly, for international students, if you come to study in China I believe it will help you to find a good job because the Chinese market is a huge market for international business. Secondly, from a Chinese point of view, international diversity among our students help universities here to change the lectures and introduce a more international teaching style.
5. What are the cultural differences when you teach an international class?
I don't really notice the difference because I was exposed to many cultures while studying as an international student in the UK. You become more culturally aware when you study abroad.
6. How are students assessed in China?
Course assessment depends on the lecture style, particularly for graduate students. Generally speaking, Chinese universities have a high focus on testing and final exams as opposed to homework. However, on the international courses at Nankai, professors are introducing westernised teaching techniques and presentations and home assignments have been encouraged in several classes.
7. What advice would you give to students coming to study in China?
Prepare by learning some Chinese language before arriving. Travel to Singapore, Hong Kong and Japan. It is a way to acclimate as these places are more westernized, and you can use China as a jumping point for travel.
8. What advice would you give to students wanting to improve their Chinese language skills?
Get a head start, learn 50 to 100 important words and phrases before you arrive. This is good practice and can help you settle in. Vocabulary such as asking for help or directions. Once you are here, make local friends. This is good for your language and your experience while abroad.
9. As a professor at Nankai University, what advice would you give to new students joining the University?
Make local friends. This is very important and emphasized in Chinese culture. This is not difficult, many people here want to know you and practice their English so they can go travel abroad too. Specifically, for Nankai, the campus here is safe and has a good reputation for freedom. Compared to some other cities such as Shanghai, Tianjin is more affordable.
10. What are your expectations of international students?
What I hope is that you don't forget you are a student. You are not working now, you can see and do anything. It is during this time that you can take risks to learn more about yourself. Make and learn from your mistakes. Just do it. My advice to students is to be yourself. I learned this mentality in the UK.
Are you interested in studying at one of our Universities in China? Read our 10 Questions, 1 Student interview to see what INTO China student Christian Eberhardt said about his experience studying on the INTO China Summer Programme or visit our website for more information.