Celebrating graduation: class of 2015
This summer we celebrated the graduation of our students who progressed from our INTO centres to a UK university.
We caught up with Reem, Meimei, Joey and Alina; they shared with us their student experience and future aspirations since graduating from the UK.
Reem Al Alawi, our Bahraini student, started her journey with INTO Manchester. She has gone from strength to strength and has successfully completed a degree in Civil Engineering from The University of Manchester.
I feel that the foundation year at INTO was really good for me. It was my stepping stone into the academic world.
Meimei Wang from China first started with INTO Exeter back in 2012, studying International Foundation in Business Management. She then progressed on to study a BA Hons degree in Business and Management at the University of Exeter.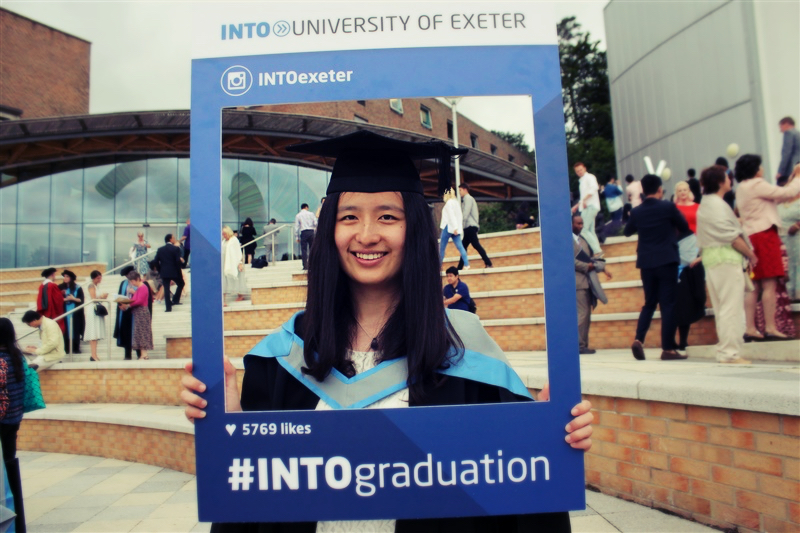 I think I will go back to China first, find a job in an international business firm. I definitely will keep an eye out on opportunities in other countries.
Joey Tang from Hong Kong, first studied an International Diploma in Engineering and Science with INTO Queen's University Belfast. He achieved a first in Mechanical Engineering at Queen's Belfast University this year.
I would like to continue my PhD at Queen's University, working with Wipers. They will be able to give me work experience during my PhD programme.
Alina Tsyba, our Russian student graduated with a first in Mathematics from The University of Manchester. She shares with us her experience when studying at INTO Manchester and how it helped her with all the preparations towards studying at a UK University.
Studying abroad gave me all the knowledge and skills I needed to help me prepare and study in a UK university.
We're so proud of all our students who graduated this year; well done Class of 2015!
For more success stories and how INTO can create an impact on your educational journey, explore our Alumni page and hear more from our Alumni students here.
Our Alumni community is growing. Why not join us on LinkedIN to find out more; whether you're currently studying with INTO or previously attended an INTO centre, we want to hear from you.
Share your graduation stories and adventures with us on Facebook, Twitter and Instragram, along with the hashtag #intograduation.