Accommodation: Living at INTO University of South Florida
What's it like living on campus at INTO University of South Florida? INTO USF team member, Amanda Walter, tells us all about it…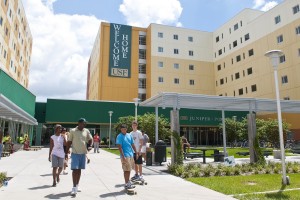 Life at a U.S. university is an adventure – there's so much to do and see! You'll make friends and memories that will last a lifetime, and there's no better way to experience it all than to live on campus.
If you live in our accommodation you'll share large suites or apartments with INTO and USF students (giving you the opportunity to make both domestic and international friends). You'll be near to dining halls, fitness facilities, social activities and classrooms. You'll also have access to extra academic resources such as tutors, advisors, and useful presentations. Additionally, our Resident Life Staff will coordinate fun activities for your residence hall.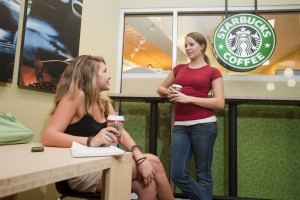 'I think it's a good idea for new students to stay on campus', says Yu Guo, a Graduate Pathway student from China. 'You can make friends with your roommate, have lunch, study and go to class together. Having both American and international friends will also help you to improve your English'.
But what's on offer? Well, there are three basic types of campus housing at USF:
Apartment Style Suites
Apartment with 3 or 4 private bedrooms. Students can have their own bedrooms with a shared living area, kitchen and 1 or 2 bathrooms.
Who's it for?: This option is best for students who prefer to prepare their own meals and are looking for more privacy.
Premium Style Suites
Two double bedrooms and one shared bathroom.
Who's it for?: This is a good option for students who want a balance between personal space and a sociable atmosphere.
Traditional Style Suites
Four double bedrooms with a semi-private bathroom.
Who's it for?: This is a lower cost option for students who want both privacy and the opportunity for interaction with other residents.
All rooms in USF's air-conditioned on-campus residence halls come with a bed, adjustable frame, and extra-long twin mattress; a desk and chair; a dresser, a clothes closet, and a trashcan.
On-campus residence halls also include a cable television service, wireless Internet, a kitchen on every floor, laundry facilities, study lounges, vending machines, and 24-hour on-call emergency maintenance.
To learn more about USF's on-campus housing, check out USF Housing & Residential Education or email INTOHousing@usf.edu.
Watch our latest video to learn more about life at INTO University of South Florida…