Ask a Hofstra University Professor: Dr. Hanna Wahba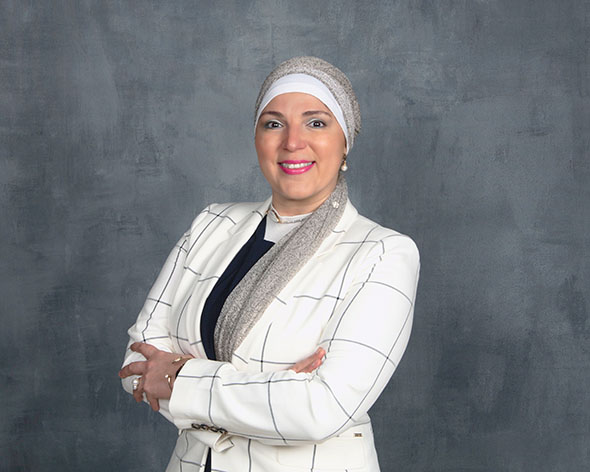 We sat down to chat with INTO Hofstra University's Dr. Hanna Wahba to hear what makes her so passionate about teaching international students like you.
Her interactive class projects vary from a traditional lecture style so that you can immediately practice what you've learned in lessons. Through her curriculum, she strives to elevate your English language skills so that you can confidently participate in classroom discussions and pen well-structured papers in future courses.
She cares about explaining all terms clearly in ways that you can both understand as well as apply across your studies to be an overall stronger student.
Keep reading for quick Q and A with Dr. Wahba. By the end, you might just find yourself wanting to sign up for her class.
What is your teaching style?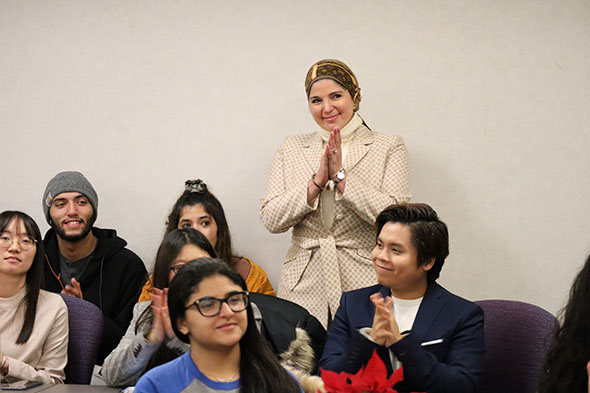 "I use project-based learning which is an engaging and effective teaching method that motivates English language learners to develop deep knowledge about the content. It is a student-centered pedagogy that involves a dynamic classroom approach in which it is believed that students acquire a deeper knowledge through active exploration of real-world challenges and problems. That is why I incorporate a lot of in-class projects that examine real-world problems for Novice, Intermediate, and Advanced levels to help students enjoy learning and improve their proficiency in English."
What do you like most about your job?
"I like to inspire my students, motivate them, and encourage them to share their diverse viewpoints in class. I also like to give the students the voice, and choice to take control of their own learning. The true reward comes from watching my students learn, develop, and apply the skills that I teach them. I also like to inspire other professors and encourage them to create the constructivist learning environment to help their students to be active participants in their classes."
What would you be if you weren't a professor at Hofstra?
"I would probably be a professor or a director in another university because I have a rich experience teaching and mentoring faculty in US colleges and universities."
What was your favorite subject when you were in school?
"My favorite subject was The Foundation of Education course."
What's the best thing about your university?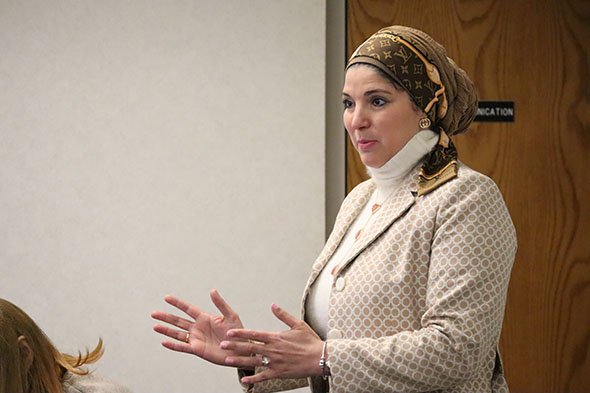 "First and foremost, professors are very supportive and friendly. Secondly, its relatively small class sizes make it easier for the student to have a more of a hands-on experience and to build academic student-professor relationships. Last but not least, the campus atmosphere is friendly and inviting."
What do you enjoy doing in your spare time?
"In my spare time, I love to draw and paint as a hobby. I actually participated as an artist in International Women's Day in the United Nations in 2018. Here is the link on my artwork in the UN."
Which book are you currently reading?
"I am currently reading Current Issues and Trends in Education by Aldridge and Goldman."
Can you describe an average day's teaching in three words?
"Preparation, Motivation and Evaluation."
Now that you've read about our faculty, you might be interested in learning more about our programs. Check out our blog on Hofstra's cybersecurity program for an inside look on degree specializing in a growing tech industry.
To keep up to date with student life and learning at Hofstra, follow us on Facebook, Twitter, YouTube and Instagram!