Hofstra's cybersecurity means business and technology
Now more than ever, cybersecurity professionals are sought out by businesses to protect their information, IT systems and that employees are conducting safe online practices. With so many in-person tasks turning into online forms, you can even think to yourself how often you've inputted your full name, banking information to businesses.
That's why we are seeing a demand for cybersecurity professionals. The US Bureau of Labor Statistics agrees and projects that employment of information security analysts is expected to increase by 32% from 2018-2028.
Hard work and an industry-led cybersecurity curriculum have landed our alumni at influential companies for their careers and highly ranked universities for further studies. In fact, 88% are employed in grad school or both; 100% accepted a position within six months; and their median starting salary is $50,000.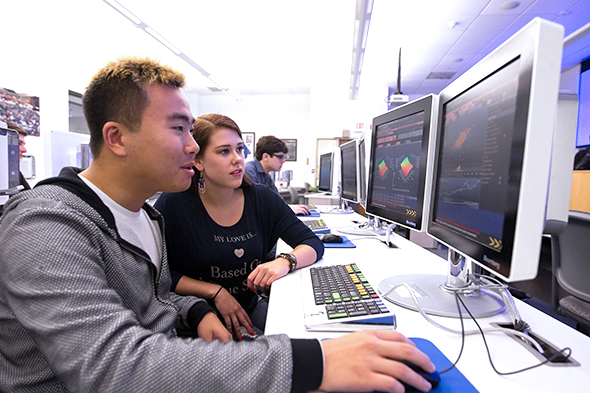 The serious business of cybersecurity
Business might not be the first thing you think of when you think of cybersecurity. Hackers, Wikileaks, threats to firewalls and privacy tend to come to mind. Hofstra University designed their cybersecurity program to make you consider how much businesses rely on cybersecurity. We even have facilities and master's programs that connect directly with our business school.
In cybersecurity, you'll be pushed to think like a hacker in order to track down where threats are coming from and how they infiltrate systems. If you want to be equal parts a Sherlock Holmes detective type and a master of software programming, then come join us at Hofstra to study cybersecurity.
At Hofstra, we will give you the software know-how, connections to industry and policies that cybersecurity professionals deal with everyday.
Choose your own cybersecurity adventure
From the software used by government intelligence agencies to virtual reality, Hofstra hosts an assortment of software and facilities for every piece of tech you could use on the job.
If you want to try out a video game-inspired, artificial intelligence-powered cybersecurity learning platform, you should learn your way around the Circadence Project ARES.
If you want to test software to see where hackers could exploit computer systems and smartphone apps, get familiar with Metasploit.
If you want to join law enforcement, military or government intelligence agencies somewhere down the line, you should learn the Cellebrite UFED Touch2. These groups use this same software to keep data stored on your phone safe.
If you want to learn software that can screen threats for you, get to know CryptTool2, a digital cryptology program that identifies risks to users.
Learn about all these programs and more on Hofstra's Cybersecurity Innovation and Research Center website.
Friends with Facebook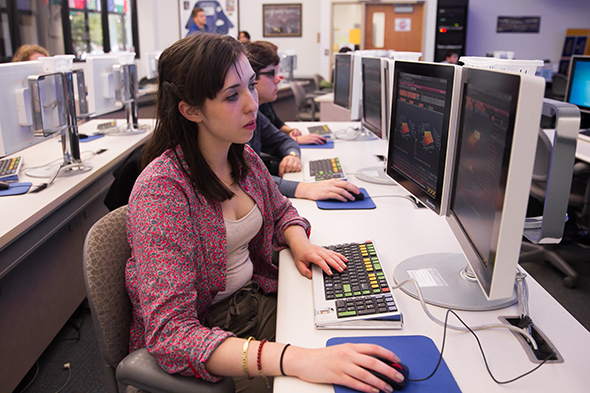 Hofstra is only one of nine US universities selected to partner with Facebook for a 12-week cybersecurity training coding academy. This coding bootcamp gets you to think like you're on the job. You'll learn the basics and principles of what you'll encounter as risks as well as create defensive applications that fight against threats.
Hofstra was able to lock down a partnership with Facebook thanks to Dr. Xiang Fu, an associate professor of computer science. Fu is just one example of how well connected Hofstra faculty are within their fields.
In an interview with university news, Fu praises the program saying, "We appreciate the great benefits that the program has brought to our students: invaluable hands-on penetration testing skills, exposure to the most recent research in cybersecurity, and career opportunities. We look forward to enhancing our cybersecurity programs by building successful partnerships with the industry."
Check out where Hofstra cybersecurity alumni found jobs:
3M Health Information Systems, Inc.
Accenture Plc
Credit Suisse Group AG
DraftKings
Google, Inc.
Look at where cybersecurity alumni have continued their studies:
Hofstra University
Johns Hopkins University
Rochester Institute of Technology
SUNY Stony Brook University
University of Connecticut
If you're ready to apply to Hofstra's cybersecurity program, read 8 steps to applying to a US university.
To keep up to date with student life and learning at Hofstra, follow us on Facebook and Instagram!