10 Questions, 1 Teacher: INTO GCU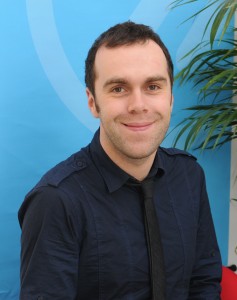 As part of our '10 Questions, 1 Teacher' series, we spoke to Chris Bateman, who teaches on the English Language Programme LEAD (Learning Enhancement and Development) at INTO Glasgow Caledonian University.
1. What do you enjoy most about working at INTO GCU?
INTO Scotland is a really fun and dynamic place to work. We have a great team spirit and I get to work with people from all over the world. I really enjoy the challenge of helping my students to meet their goals and assisting them on their journey. 
2. What's your teaching style?
In the English Language classroom, a really successful lesson depends on having a collaborative and interactive atmosphere. My style is to make sure that atmosphere happens – then the learning can begin and we can have some fun too.
3. What would you be if you weren't a teacher at INTO GCU?
Well in a previous career I was a journalist, so maybe that.
4. What was your favourite subject when you were at school?
English, of course!
5. What's the best thing about Glasgow?
Glasgow is such a great city in so many ways. The people are friendly, it has great restaurants, lots of culture and there's loads to see and do.
6. Which book are you currently reading?
The Audacity of Hope by Barack Obama – he's an inspirational man.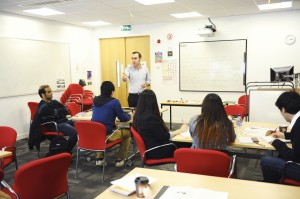 7. Have you ever studied abroad?
Not at university, however, I did live in Madrid for a few years where I attended Spanish classes.
8. What advice would you give to international students?
You are only here for a certain amount of time so make the most of it. Make friends, embrace the culture of your host city, study hard and, most importantly, have fun.
9. How long have you been teaching at INTO GCU?
Almost four years.
10. Do you feel you've learned anything from teaching international students?
I feel like I'm constantly learning from my students – they never fail to surprise me.
Find out more about studying at INTO Glasgow Caledonian University.