Taste Test: 6 Classic Chinese Street Foods
Studying in China soon? Curious about the cuisine on offer? 
INTO China student Jaila Cramer from the USA takes us on a tastebud tingling tour of some classic Chinese street foods …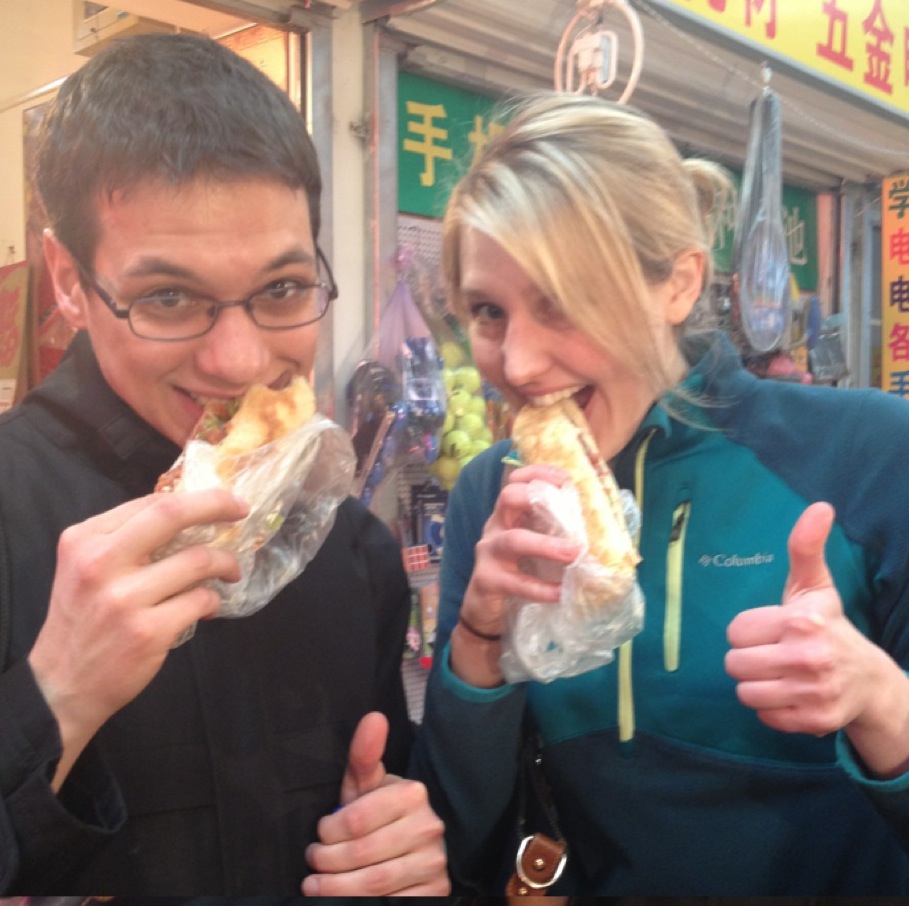 The sheer variety of street food in China will leave your head swirling – stalls crammed with fried duck, woks sizzling up dough, sugar coated berries, exotic fruits the list could go on and on. Some dishes might seem strange at first but most are shockingly good and will inspire the taste adventure of a lifetime.
Here are a few you shouldn't miss:
1. To start the day… Jian Bing Guo Zi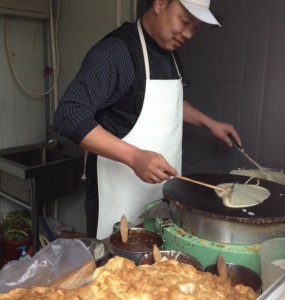 This popular Chinese breakfast crepe is a definite favourite of mine, you usually see locals queuing round carts for it. To make it, the vendor spreads a green bean batter on a hot plate, cracks an egg on top, then sprinkles with black sesame seeds and chives.
To finish, it's folded around a strand of deep-fried crispy dough. A similar, heartier dish that I also like is "da bing ii dan".
2. For a tasty snack… Hee-Haw
Hee-Haw, or donkey meat, is a popular Tianjin specialty. It's usually spiced with coriander and green peppers, then packed into a flour pastry cake for a delicious hot and crispy sandwich known as "lü rou huoshao".
It's sweet in taste and texture-wise, I found it to be a bit like pastrami. It's a must-try street dish that will have your taste buds screaming for more.
3. For food on-the-go… Sweet Potatoes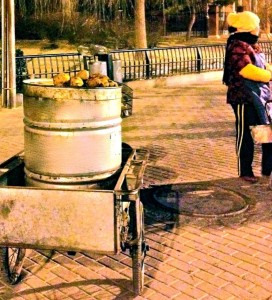 In the streets and markets of China, you'll often see enormous metal drums wafting a tempting, sweet aroma. What's inside? Simple sweet potato. It's slow roasted in the drums and makes a cheap, popular and filling treat.
You can try the traditional orange ones or even yellow or purple varieties. It's a great snack to have while on-the-go exploring China.
4. To share with friends… Skewers
Grilled, glazed, peppered and slathered in secret sauce or spices, skewers offer an array of tastes in perfect sample sizes. One thing I really enjoy is getting together with friends for a "street BBQ" – an evening snack where you can sample a range of different skewers, including peppers, aubergine, cabbages, fish balls, chicken, beef, lamb and my absolute favourite, string mushroom wrapped in tofu or bacon.
It's best washed down with some chilled Tsing Tao or Pijiu beer.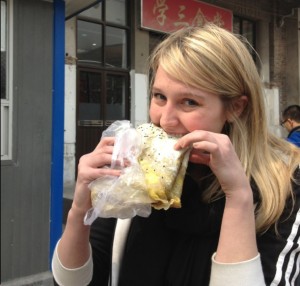 5. For an adventure… Bugs!
Yes, bugs! Believe it or not, there's actually a whole street in Beijing lined with scrumptious, creepy crawling morsels. One such "delight" that I tried was silkworm – a thumb-sized mouthful that I won't forget in a hurry.
On the street, you get them deep fried on a stick. They're rich in flavour but are strictly for the more adventurous. Want an incentive to try some? They're high in protein and calcium.
Plus, if you're brave enough to sample one, it'll make a great story to share with friends.
6. And of course, for dessert… Hong Don Huang Dun Cu
There are so many sweets to experience in China, but this popular dim sum pastry offers more than meets the eye. It's a small flaky cake topped with egg glaze and sesame seeds.
On my first bite I discovered a sweet red bean paste inside, but the real surprise was at the centre – a bright yellow egg yolk! Definitely not your typical dessert.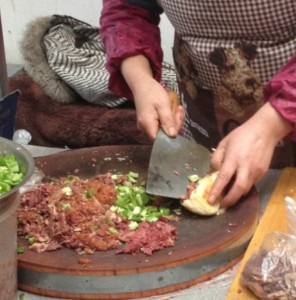 Remember, studying in China is about trying new things, so be adventurous with the street food. Tou never know what treats lie in store for you!
If you liked this food post why not check out Jaila's top tips on how to haggle in China or student recommendations for where to eat out Tianjin. 
Interested in having your own adventure in China? Follow our social channels to speak to other students studying in China on Facebook, Instagram, Twitter and YouTube to find out more.