From Brazil to USA: My favorite things to do in Tampa, Florida!
This week Brazilian student Matheus tells us all about his adventures with friends from INTO USF, including monster truck rallies, American football and riding super-scary roller-coasters!
After living in Tampa for 1 month, I now can share my favorite places to go and my experiences in each one of them.
The first is Raymond James Stadium, which is a wonderful sports center and home of the Tampa Bay Buccaneers, the professional football team of the city.
Even if you know nothing about American sports it is worth a visit to this place, there is something to see (and eat!).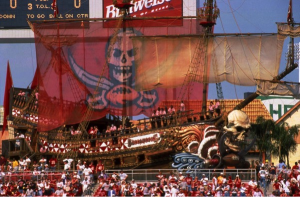 A pirate ship was built in the middle of the stands and their cannon fires every time the home team scores.
I was there with my friends watching a monster truck stunt show—the Monster Jam! It was the first time we saw something like that and everybody had a good time.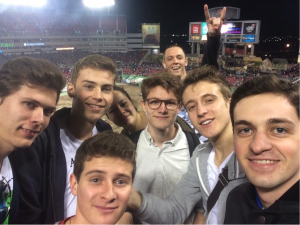 For those who love shopping, one of the biggest and better malls of the city is International Plaza.
There, you will find many famous stores there and good prices. I had the opportunity to visit the place and buy some nice clothes.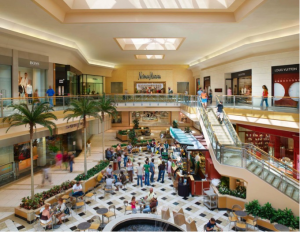 The last but not less important (actually my favorite!) is Busch Gardens. It is the most famous attraction of Tampa for sure and if you are looking for adrenaline, animals and beautiful views, this is the place for you.
The park is divided in nine parts, all of them inspired in Africa. In Serengeti Plain, for example, you can explore an African savanna in open-air touring vehicles and you will see zebras, antelopes, monkeys, giraffes and many others really close to you.
However, the rollercoasters are the highlight. There are 8 of them and I am still trying to decide which one is my favorite!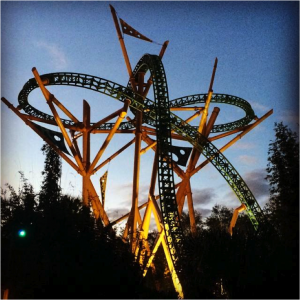 Are you brave enough for a ride in Cheetah Hunt, Sheikra, Montu and Kumba? Yes?
So let's try something even more exciting! Falcon's Fury. It is the tallest free-standing drop tower in North America (335 feet) and at the highest point your seat rotates 90 degrees to a face-down dive. What are we waiting for?
As you can see, Tampa provides us amazing places to visit and I am excited for more!
Thanks, Matheus – best of luck with your studies! He's currently studying General English at INTO University of South Florida.
Catch up with what's happening at INTO USF on their Facebook, Twitter and Instagram.