Celebrating strong women in science
Who run the world? Girls in science of course!
The International Day of Women and Girls in Science falls on the 11th of February. This day aims to support and promote the role of women in science, technology, engineering and maths – aka STEM subjects.
Female students and teachers in the UK and US share what inspired them to pursue a career in science.
What advice do they have for the next generation of budding female scientists and engineers? Keep reading to discover more…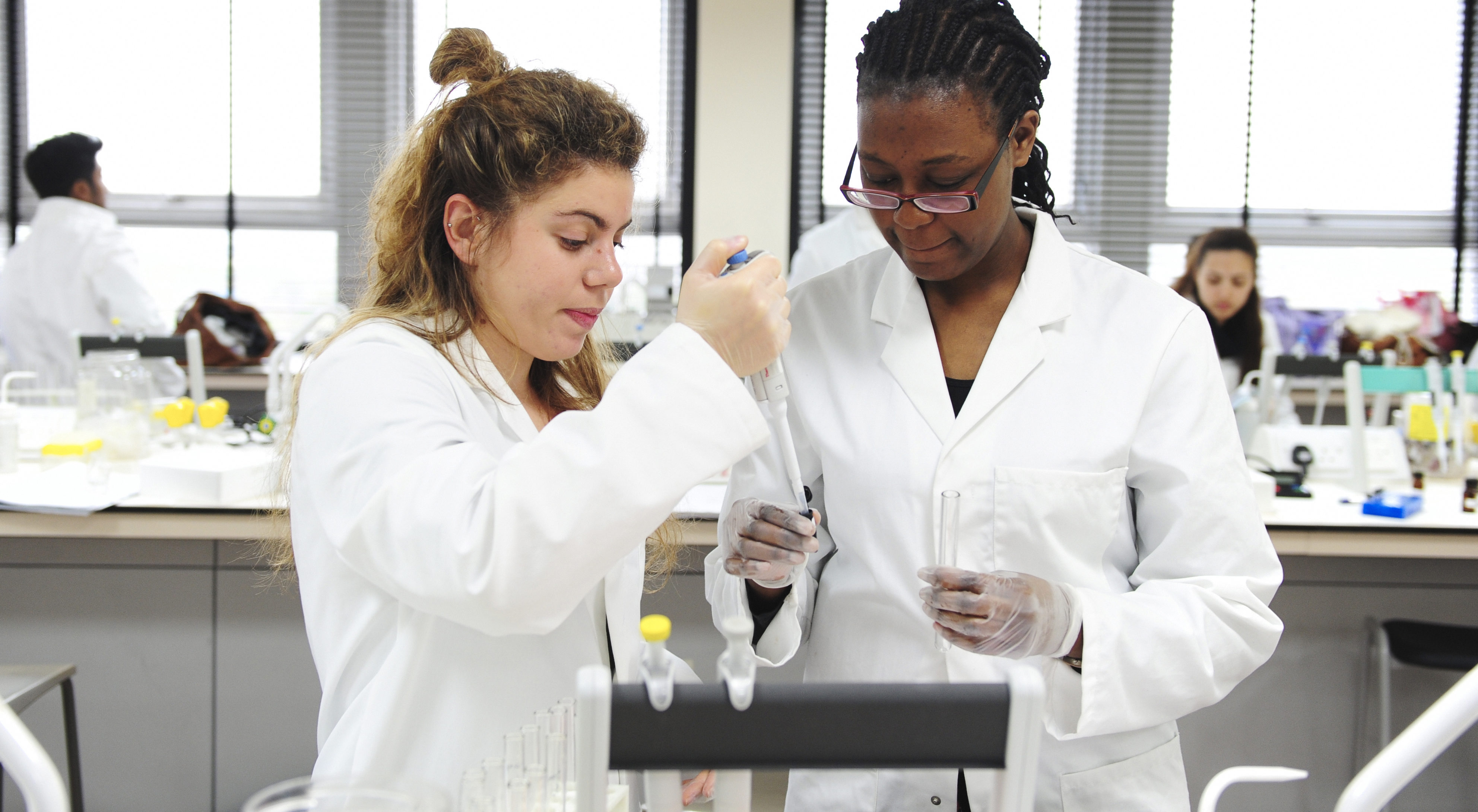 Find a role model
From Marie Curie to Rosalind Franklin, female scientists have been inspiring other women in STEM for decades.
Parents, school teachers and famous scientists alike; many young women have been inspired by others who paved the way.
At university I was exposed to amazing scientists. I remember having tutorials with a scientist called Dr Nancy Lane. She is an incredibly inspiring scientist and women. Her office was filled with pictures of her with important and incredible people and she was the founding director of the Women in Science and Engineering Initiative at Cambridge University."
Explained Dr Rachelle Maddison, Science Teacher at INTO Newcastle University.
We asked Linah from Saudi Arabia who's studying science at INTO University of East Anglia what inspired her? She said "everything around inspired me to do science because it's all around us."
For many, like Elizaveta from Russia, a Biomedical Science student at INTO Newcastle, parents can be an influential role model.
My parents inspired me, they are both doctors, so I decided to follow in their footsteps".
Be encouraged by those around you but you should also aspire to inspire others, who knows – one day you could be someone's role model!
Challenge stereotypes
The probability for female students graduating with a degree in a science-related field is half that of male students.
But the gap between girls and boys starts early: at school.
Atefah Riazi, Chief Information Technology Officer at the UN, stated that girls should aspire to be geeks, she said "If there's one thing we don't teach women and girls, it's confidence".
Sadie from Kuwait, who is studying International Foundation in Pharmacy, Biology, Chemistry, Maths at INTO Manchester agrees.
Girls in science classes tend to be more vulnerable. They don't engage in class or ask questions as much as the boys."
So how does she challenge this stereotype?
The most important thing? Don't be 'ladylike'. Be powerful. Value yourself, and love learning. In the past women have been excluded, made to feel less confident. This has changed because of hard-working women in science."
INTO University of Alabama at Birmingham engineering student Feyza from Turkey shares "I am here following my childhood dream of being an engineer. When I decided to come to the US for my Master's, I wanted to apply to one of the top universities in the world. So, I chose UAB."
So, whatever you decide to do, do it with confidence and believe in yourself. 
Be the change you wish to see
It is vital we have girls studying science. We need to have diversity in all walks of life in order to allow everyone to achieve their potential and to get the most innovative ideas contributing to new knowledge."
Says Dr Susan Clarke, an academic at the Queen's University campus who is currently a lecturer at the School of Nursing and Midwifery at Queen's Medical Biology Centre.
"We look at science as something very elite, which only a few people can learn." Said Mae Jemison, who was the first African American woman to go to space. "That's just not true. Never be limited by other people's limited imaginations".
Caitlin, an INTO London student echoes Mae sentiment and says:
"If you have a passion for science, nothing should stop you!"
Many women pursue a career in science because they are curious and fascinated about the world around them. But for every discovery, every first, every breakthrough for female scientists there are also new doors being opened for the next generation.
I realised that all of the questions that I had about the complex world around us could be answered using science. Coming from a developing country and having the opportunity to study these relationships made me realise the huge difference science could make in my life and even for those without the same opportunities as me"
Says Aashi, a Nepalese student who moved to the US to study Environmental Science at Suffolk University.
Studying abroad is the perfect adventure to gain independence.
INTO University of Alabama at Birmingham Computer Science student Veena from India thinks "individuality and independence are the two most important factors for a girl to grow in her future."
The International Day of Women and Girls in Science takes place on February 11th each year. 
You may also like to read about why Manchester was voted the city of science. 
Are you interested in studying STEM subjects? Find out more about studying abroad by visiting INTO Study.
Feeling social? Connect with other students on YouTube, Facebook, Instagram and Twitter!