7 simple recipes to help you through a week of self-isolation
You've completed Netflix and become best friends with your house plants – but now you've run out of snacks!
Self-isolation is new for everyone, so it's important that we stay healthy and positive during these strange times.
To help you through this period, we've compiled a week's worth of easy, inspirational recipes to suit the many moods of lockdown.
And don't worry – we're going to start with something super simple.
'Wake up and smell the coffee' Monday
You're studying from home, wondering why your classmates aren't replying on Zoom – and then you realise you've been speaking for 5 minutes with your microphone on mute.
You need a coffee, ASAP. And what goes better with a coffee than a nice cookie?
Here's a peanut butter cookie recipe that you can rustle up in no time, with only three ingredients that you may already have in your store cupboard .
The ingredients:
1 cup peanut butter
½ cup sugar
1 egg
'I-just-want-a-nice-bowl-of-ramen' Tuesday
You've been studying hard and have worked up an appetite – so you're going to need more than a snack to refuel yourself. Is there anything left in the cupboard?
Not much, except a few packets of ramen – so it's Instant Ramen Deluxe time!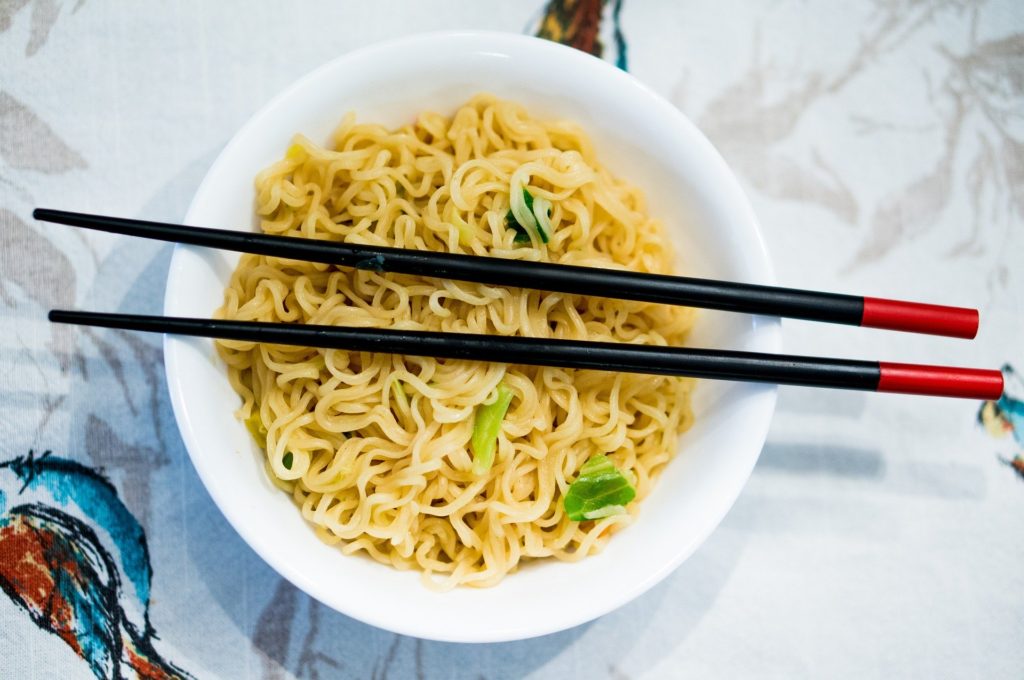 A great way to elevate your ramen is to add aromatics, such as garlic, scallions (spring onions) and ginger.  
Don't worry if you're missing some of these ingredients – you won't need all of them to make it delicious. Just experiment with whatever you've got on hand.
Here's what you'll need for a super simple ramen upgrade:
1 packet instant ramen
1 egg
1 cup of spinach
1 clove garlic, minced
1 teaspoon chopped chilli
¼ cup finely chopped scallions
½ teaspoon minced ginger
Instructions:
1. Add instant ramen noodles and spinach to cooking pot and cook as per the packet's instructions, adding the ginger, chilli and garlic half-way through

2. While the ramen is cooking, fry an egg in a separate pan

3. Place ramen into bowl and top with the fried egg and scallions
'Walk about' Wednesday
It's Wednesday, and your new-found skills in the kitchen have given you a noticeable confidence boost. It's time to show-off your swagger at a local supermarket.
Picking up a few special ingredients for the recipes that follow will help you elevate your cooking to new heights. Of course, check your local authority's self-isolation guidelines first before you head out for ingredients.
And you never know, you might have everything you need to make these BBQ Beans on Toast already!
The ingredients:
½ onion
2 garlic cloves
Oil for frying
1 tablespoon tomato puree
¼ teaspoon paprika
¼ teaspoon chilli powder
¼ teaspoon dried thyme
1 tablespoon brown sugar
1 tablespoon soy sauce
1 tin cannellini beans
100g tomato passata
4 slices fresh bread
'Mac 'n' cheese' Thursday
You've watched too many rom-coms and you're feeling emotional – maybe that was too much cheesiness for one day?
Why not try this vegan mac 'n' cheese by Tasty? It's delicious, nutritious and doesn't contain any actual cheese!
The ingredients:
2 yellow potatoes
1 carrot
1 onion
½ cup cashews
1 teaspoon salt
1 teaspoon garlic powder
1 teaspoon onion powder
2 tablespoons nutritional yeast
1 lb macaroni, cooked
Friday 'pie-day'
You're doing so well. You're a multi-tasking, flavour tasting cooking machine, –and it's time to celebrate your genius.
And what says celebration better than a good old-fashioned banoffee pie?
Be warned, there is going to be enough of this to last for a whole week unless you're sharing.
The ingredients:
30 oz (850g) sweetened condensed milk
14 graham crackers (or digestive biscuits)
6 tablespoons unsalted butter, melted
Extra butter to line the baking tin, or non-stick cooking spray
1 ½ cups whipping cream
1 tablespoon sugar
3 bananas, sliced
Chocolate, grated
'Spaghetti you'll never forgetti' Saturday
Let's face it, you've got a bit of spare time on your hands – so why not experiment with Italian ragu?
The great thing about Spaghetti Bolognese is that you can choose to use vegan or meat mince depending on your preference. Here's an easy vegan Bolognese recipe for a heart-warming Saturday meal.
If you fancy something with meat, you can substitute the soy protein for minced beef (just make sure that you brown the mince before adding it to the other ingredients).
'Bake some bread' Sunday
Your skills are clearly improving – you've mastered the hob, and now it's time to master the oven by baking some focaccia bread.
Baking a fresh loaf not only smells amazing, but it also sets you up for a week of eating delicious home-made sandwiches.
This recipe covers the basics of making the focaccia dough, as well as suggesting a few good toppings you can add – but feel free to experiment with your own toppings!
For the bread you'll need:
1 ½ cups of warm water
1 packet (7g) of active dry yeast
1 tablespoon olive oil
4 cups (500g) of plain flour
1 tablespoon of salt
½ teaspoon of dried thyme
½ teaspoon of black pepper
½ teaspoon of fresh rosemary
We hope you enjoyed these recipes. We'd love to see what you've created, so share photos of your culinary creations with us by using #helloINTO – we'll share our favourites on our page!
If reading this has got you feeling motivated, you may like to read how to stop procrastinating and do it NOW instead.
Feeling social? Follow us on YouTube, Facebook, Instagram and Twitter!