Take to the skies with SLU's aviation engineering
At Saint Louis University (SLU), opposites come together to give you the combined strengths of timeless pilot principles and the latest in aviation engineering.
St. Louis has a legacy of firsts in aviation. Shortly after Charles Lindbergh Jr. made history piloting the first solo transatlantic flight in 1927, Oliver Parks founded SLU's Parks College of Aviation and Engineering. Riding the wave of popularity in aeronautics, SLU became the first federally approved school of aeronautics.
The city's role in the history of flying and SLU's next-level technology work together to bring a well-rounded aviation engineering program to the next generation of pilots, astronauts, aeronautical engineers and many more.
There's no better place to launch your dreams–whether to space or to tech giants–than SLU.
If you want to be a pilot…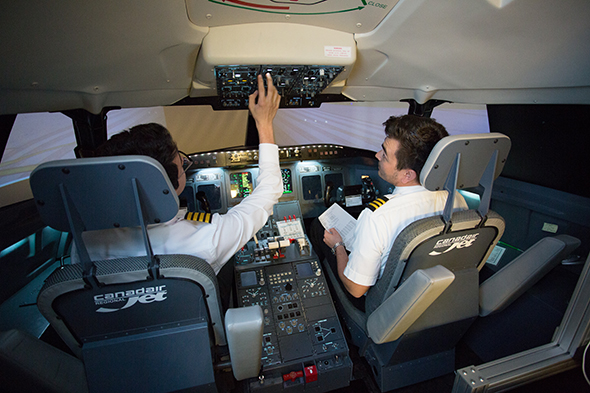 You can choose from two undergraduate aviation programs and two graduate aviation programs. Throughout all of these programs, you will learn on the planes and systems used today on the very flights you take to visit home or go on vacation. Beyond that, you will even have the chance to work with some of the lightest planes in the world.
Upon weeks of your first year, you can actually get off the ground and fly. Over the course of your program, you will increase your certifications so that you're confident and qualified to skillfully operate an aircraft.
Flight facilities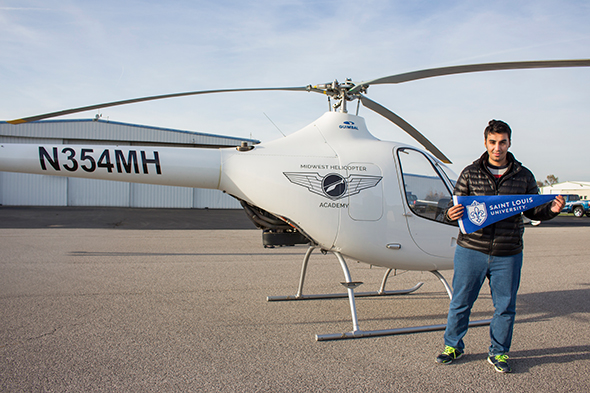 Facilities streamlined to the aviation fields give you exposure to two key aspects of aviation: air traffic control and autopilot technology. The Air Traffic Control Laboratory allows you to navigate local control, flight data and ground control through the same simulation system that the US government uses to train professionals.
On the other hand, you can experiment with how drones fly and how they are programmed in the AirCRAFT Lab.
Partnerships with major airlines
SLU's Parks College has four industry partners, so that you learn both industry standards as well as gain powerful connections before you graduate. From these partnerships, you will have a better understanding of what you need to do to become pilot so that your postgraduate next steps are clear and easy to follow. Some airline partners will even guarantee you an interview with them after successful completion of programs, certificates and ratings.
Parks College currently partners with ExpressJet's Airline Pilot Pathway Program, Envoy Air Pilot Pipeline Program, Trans State Airlines Aviators Program and Mesa Airlines First Officer Cadet Pipeline.
If you want to be an aerospace engineer…
Humanity went to the moon in 1969. Aerospace engineering steps in to answer where we will go in the next decade. Inventions like the Mars rover and other space vehicles are all thanks to the efforts of aerospace engineers.
SLU's aerospace engineering program gives you a study plan riddled with real-world applications so that your dreams can take off and land exactly where you need to be.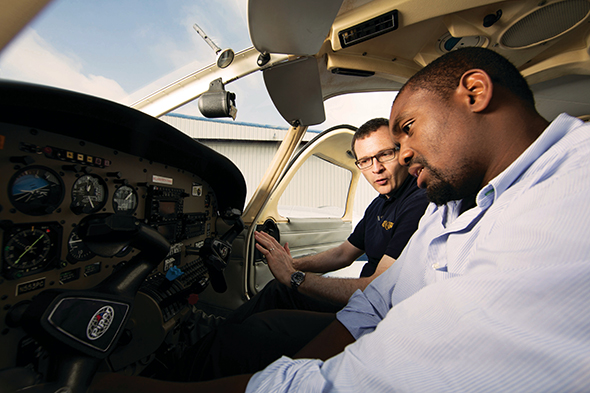 Start working like an astronaut
You'd have to look far and long to find the specialized aviation equipment you have access to at SLU. As a student, you can get your hands on wind (supersonic and subsonic) and water tunnels as well as a reconfigurable engineering flight simulator.
Get to space, the final frontier, from campus. Polish your research expertise in SLU's Space Systems Research Laboratory where you can get started researching design and operation in space systems. Since entry-level positions at companies like NASA will involve practiced research skills alongside your engineering background, it's crucial that you enter the postgraduate landscape with refined research strategies.
In fact, SLU engineers built the Argus-2 satellite. From the International Space Station, Argus-2 launched into orbit on February 19, 2020, marking the 100th CubeSat (small, cube-shaped satellite) Mission Deployment through NASA's educational program.
Head over to our website If you'd like to study abroad at INTO Saint Louis University.
Why not take a 360 virtual tour of the campus? Or, read more about how tech brings students together at SLU.
Feeling social? Follow us on Facebook, Instagram, Twitter and YouTube.