3 tips for truly terrifying Halloween makeup
We're frightfully excited to have beauty vlogger Pearla joining us on the blog.
We managed to blag the inside scoop on her Spooky Doll makeup tutorial, just in time for Halloween!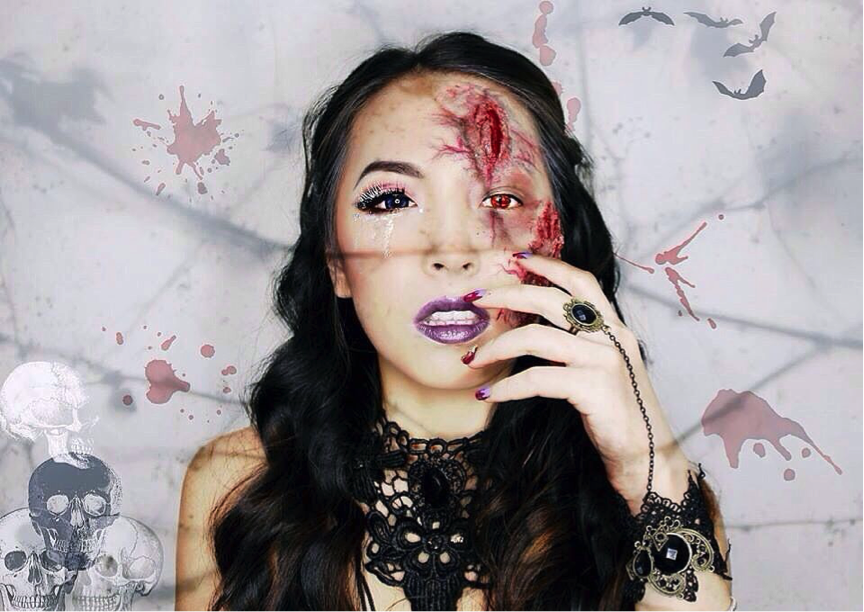 These tricks and techniques will help you perfect the creepy makeup look.
1. Apply primer to make your makeup last longer
As you're hanging out having fun with friends all night, your makeup could melt and fade by home time. So applying primer is the best solution to keep everything together.
I recommend the Max Factor and Benefit primers, or Urban Decay for eye makeup, but any brand is good as long as it works for you!

2. Be creative making the doll zombie look
For this particular look, you will need a few special tools. You can find them all at your local fancy dress shop:
Special wax for building the fake scar
Steel wax carving set
Red contact lenses

Other makeup essential for this look:
Normal red lip laquer in dark cherry and light red
Lip gloss in pink and red
Eyeshadow with pink, light brown, dark red, dark brown and black colour
Pink glitter dust
Cream gel eyeshadow – I use "Metallic Pomegranate-70″ by Maybelline
3. Application
Apply foundation as normal to half of the face and exaggerate your normal makeup for a doll look; add extra star and glitter dust in to the fake eyelashes, so they look more like a doll.

On the next half of your face, use eyelash glue to apply lumps of the wax to your forehead and cheek, before moulding them into a gory looking shape for a wound.
Add foundation over the wax to make it appear skin colour and dab some brown eyeshadow around the scar and your eyes to give you the effect of dead and dirty.
Next up, use the black colour make the scar look deeper and finish with the red lip laquer to give the effect of blood.
For the last touch add some extra drips and flecks of red, and blend with pinks, purples and browns from your eyeshadow pallet to make it look extra gruesome!
Happy Halloween Everyone – happy re-creating!
Looking to add something else to your Halloween outfit? Try out 3 easy hacks for BOO-tiful Halloween nails, or find inspiration from Malaysian student Roxas' Photo blog: my first Halloween.
To find out more about studying abroad, head over to our website today.  
Connect with other students who are studying abroad on YouTube, Facebook, Instagram and Twitter!