10 Questions, 1 Teacher: INTO University of East Anglia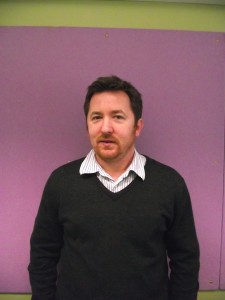 This week in 10 Questions, 1 Teacher it's over to INTO University of East Anglia, where we're chatting to Lander Hawes, who teaches English on the International Diploma programme.
What's your teaching style?
It's communicative in the sense that pair and group work forms an important part of my classroom activities. I also like students to learn from examples.
What do you like most about your job?
Teaching in the classroom – I enjoy the active, interacting role that a teacher has.
What would you be if you weren't a teacher at INTO?
Not sure, perhaps working as a creative writing teacher. I write fiction in my spare time and had a novel published last year.
What was your favourite subject when you were at school?
English, but Geography had its moments.
What's the best thing about Norwich?
The York Tavern in York Street.
What do you enjoy doing in your spare time?
See above…I love spending time at The York Tavern. And I read a lot. Also, looking after Evie my new baby daughter, and gardening too.
Which book are you currently reading?
Killing Daniel by Sarah Dobbs.
Have you ever studied abroad?
No, but I've lived and taught in Spain.
Describe an average day's teaching in three words…
Being on stage.
What have you learnt from your students?
The many different ways of concealing a mobile phone from view!
What one piece of advice would you give to international students?
Finish any coursework a week before the deadline and redraft it twice.
You've heard from a teacher, now why not get a student's perspective on life at INTO University of East Anglia? Read Erica's interview.
Find out more about studying at INTO University of East Anglia