INTO Adventure: Taking on the Great Wall of China
Imagine packing your bags and taking off to China for an entire summer. Immersing yourself in its rich culture and traditions, exploring historic landmarks, and learning some Chinese along the way. Perhaps making a few lifelong friends too.
Well, that's exactly what our INTO China Summer School students are doing right now. Student Services Co-ordinator, Rob Say, talks about what the group got up to in their first weekend in Beijing. He also explains what it takes to be a 'real man' according to a Chinese proverb, and how all of the students managed to achieve this feat (even the girls!).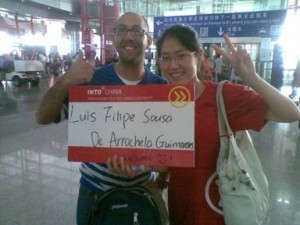 Rob: The first two INTO China students of the summer landed on Chinese soil at 23.30, to be greeted by members of the INTO China team holding up welcome boards bearing their names. Stacey Dennis and Ben Eggert, both of Oregon State University, were followed by 9 others for an orientation weekend in Beijing, before heading off to Nankai University in Tianjin, 80 miles from Beijing, to begin the start of their Chinese language summer programme.
We began by visiting Beijing's most famous landmarks, including the Forbidden City, Tiananmen Square and the Temple of Heaven.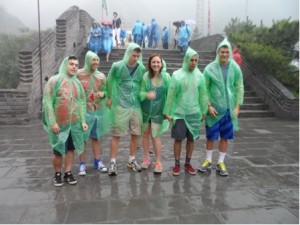 A Chinese saying states that you cannot become a real man until you have tackled the Great Wall of China, so on Sunday we attempted to fulfil this challenge – and thankfully everyone succeeded.
Although it rained a lot, it was a lot of fun getting used to China, making new friends from both sides of the Atlantic, and having the chance to see some of the country's world-famous attractions. The weekend was rounded off with a visit to one of Beijing's top restaurants, where the speciality was mouth-watering Peking Duck, prepared by the chef at our table.
On Monday we said 'zaijian' (good-bye) to Beijing and 'nihao' (hello) to Tianjin, which is not only the location for the summer programme, but also for a ceremony marking the beginning of a long-term partnership with Nankai University, where from September 2012 we will be running an MA Course in International Business and Economics.
Has Rob's blog whet your appetite to hear more about the INTO China experience? If so, take a look at Christian's account of his summer studying in China with INTO here.