10 Questions, 1 Student: INTO China part 2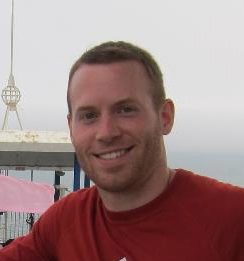 Today we reach the concluding part of 10 Questions, 1 Student. We hope you've enjoyed reading it as much as we've enjoyed putting it together!
To round off the series we have part two of our INTO China special. Here's Christian to tell us all about making friends and memories in China…
Name: Christian Eberhardt
From: USA
Course: INTO China Summer programme
1. Why China?
I studied abroad previously in Thailand and immediately fell in love with Asian culture. I never got a chance to make it to China and have long
been intrigued by the country's people, culture, and heritage. This was the perfect opportunity!
2. Did you know any Chinese before your INTO China experience?
I knew zero Chinese before embarking on my adventure, however my background is in French and a lot of the tones are very French sounding, which helped a surprising amount.
3. What aspect of life in China has surprised you most?
The aspect that surprised me the most was how much the Chinese already knew about their global position. The Chinese people today realize they will soon have the strongest and influential growth out of any country in the world, and given their population, will be shaping life as we know it. Even talking with the street vendors, they could see in the near future their lives would be dramatically enhanced as more and more global companies push to conduct business with China.
4. How many people were on your programme? Have you made any lasting friendships?
There were 15 students, 6 interns, and 4 local mentors from the university. I made friendships from all over the world and have continued to speak with some of my group members on a daily basis. On top of the students in the group, the campus was truly international and I met students from all walks of life. We had a volleyball match against the African students on campus and it was amazing, even though they were much more skilled than we were!
5. Where did you live while you were in China?
I lived in the International dorms on campus. They were a convenient walk from the language center and the other students in the same dorm were fantastic. I met students from almost every continent in a short 4 week span!
6. What's the best new food you've discovered over here?
The best food I ever ate was a traditional northern dumpling filled with shrimp and soup broth. I never would have guessed it had a liquid inside but upon biting into it, there was an instant explosion of flavor and intrigue my senses could barely keep up with. It was honestly the best dumpling I have ever eaten and could eat it in a row for months!
7. Favourite Chinese custom or tradition learnt while studying in China?
Honestly my favorite custom was using chop sticks for everyday eating. I now find the fork completely useless!
8. Favourite excursion?
By far my favorite excursion was to the Great Wall of China. We went to a less-touristy section of the wall and walking the paths that humans have walked for hundreds of years was truly amazing. To see and climb one of the great wonders of the world was remarkable and something I will never forget.
9. Favourite Chinese word or phrase learnt and what does it mean?
My favorite Chinese phrase was "mang zhe". One typically says this when exiting a cab to the driver and it basically means have a safe journey to
your next destination. Each time I said this it put a smile on the cab drivers face and seemed to really mean something. A simple appreciation
for the cab ride can go a long way with cross cultural relations.
10. Describe your summer with INTO China in one word:
Unforgettable.
Remember, you can join the INTO China community on Facebook and Twitter, we're you'll get all the latest information about our programmes, activities and events.