International student diary: my first week studying in China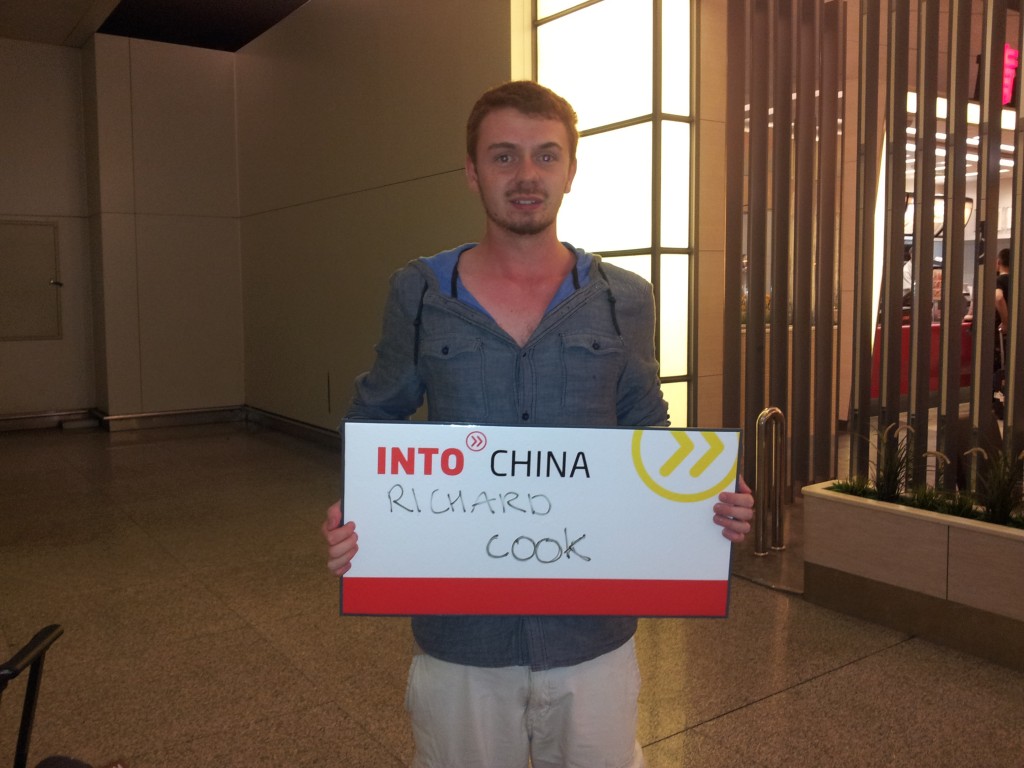 What's it like when you first arrive in China to study?
British student Richard has just started his MA in International Relations at INTO Nankai University. Here he shares the diary of his amazing first week in China, which included sightseeing, shopping…and some very slippery noodles!
Saturday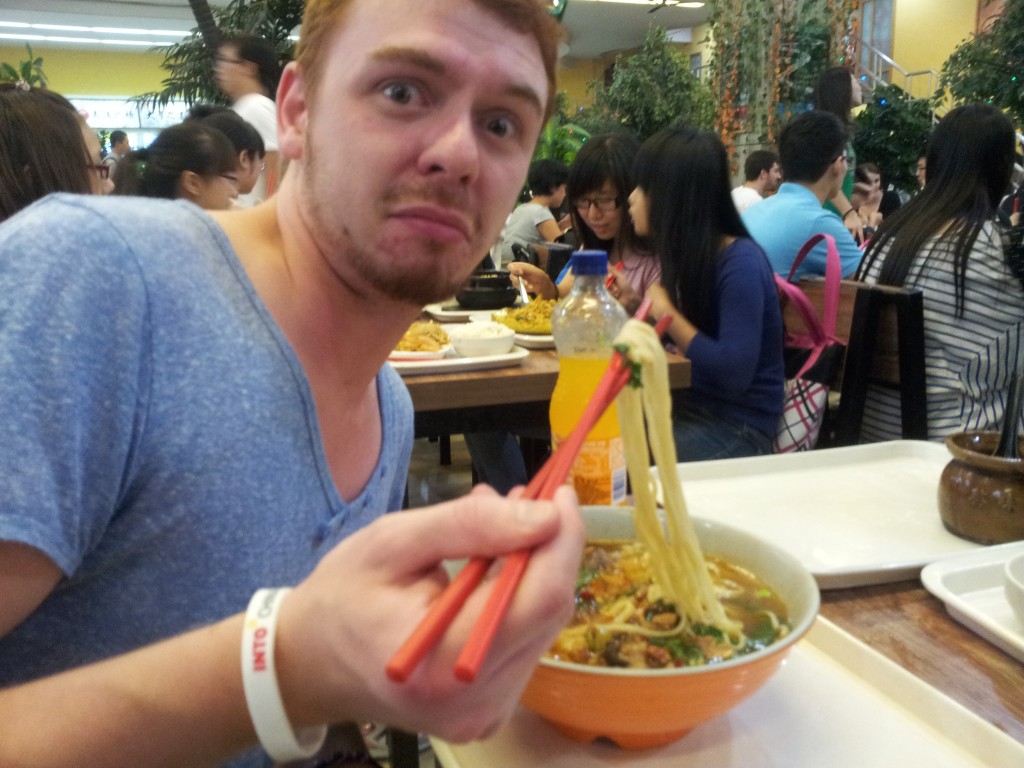 Today my plane landed in Tianjin. At the airport, I spotted my name on a sign held by Tingzhen from the INTO China team, then I was taken to the university campus with some other new arrivals. The dorms are a lot better than I thought – the bathroom is western style, and I have a great view of the canal, trees and city.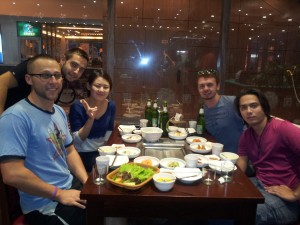 Sunday 
Today was my first full day as a student of Nankai University! After a much needed lie-in I met my uber-cool roommate Ryan. Later, the INTO China team took us to the supermarket and on this trip it became clear that our INTO group would become close friends. I got my first true feel for Chinese culture at night as we went to find some street food. The scenery and the vibe were truly amazing, and the food was mouth-watering. The we moved on to a bar called the Green Man. The staff were immensely friendly and gave me my first Chinese lesson – how to order beer!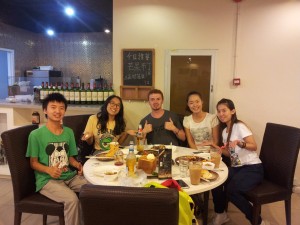 Monday
My day started with a really helpful briefing with the INTO China team, who filled me with excitement as they explained all the possibilities of studying in China. The professors gave us a talk about the subjects and got to know us as people, which was very reassuring. We were then taken by our very kind INTO helper to the lunch hall – the food was way nicer than I thought it would be. After this, we toured the vast Nankai campus – it's more like a town! In the evening I went out with my classmates to try some local cuisine. It was one of the best meals I think I've ever had. I would live in the restaurant if I could!
Tuesday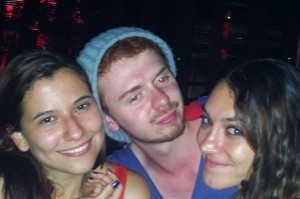 Went with some of the other students to explore the shopping street downtown. It's massive. Bought some "back to school gear" at H&M then went western for lunch and had a banquet at McDonalds with my American roommate. My classmates and I challenged some locals to a game of pool at a bar near campus – we got beat! It was a great chance to pick up some new Chinese phrases. I was electrified to see the banner of my favourite football team, Sunderland, hung on the wall! Then a few of us decided that we should create an INTO football team, which I'm excited about. I also met a second year student from my programme from Nigeria, he had tons of advice about getting around town.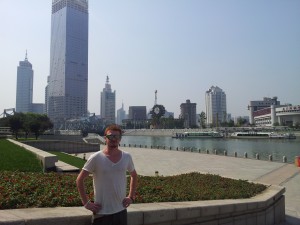 Wednesday
In the morning I attended an opening ceremony with students, INTO China staff, and Nankai professors. The vice president of the university welcomed us and the professors introduced their colleges. It's great to feel a part of such an inspiring family. I had dabingjidan for breakfast at a street stall on campus – it's chicken and egg wrapped in pastry and is divine. All the food is so good in this country. Then we had a walking tour that really gave an insight into the rise of China in the modern age – the city has more building sites than I've ever seen. We met with NKU students this evening to make new friends. I've also arranged a language swap with two Chinese students and a football match with some guys from another college!
Thursday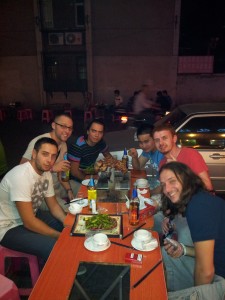 Today we started the process of getting our resident permits. The first step was visiting a travel health clinic to get our health checks – it was quite a humorous experience and brought our group a little closer together. I've now got a few fun stories to share with friends at home! In the evening, INTO had a gathering at a place near campus to meet other students. We continued improving our pool skills and played some Foosball as well. It's becoming my favourite spot as it's where many students unwind and socialise. It's nice to find a place you can call your local hangout when you're in a new city.
Friday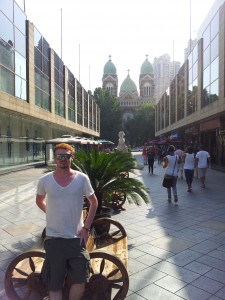 Today we were tourists in Tianjin. We started the morning by visiting the Tianjin museum, then we had lunch at a famous noodle house in the city centre. It was heavenly but took some work to manoeuvre chopsticks around a bowl of slippery noodles! My classmates found this very amusing. Later in the day we visited the Porcelain House which is a massive three story mansion with murals on the walls of dragons, roosters and landscapes. The day ended in Ancient Culture Street which was filled with lots of chinese nicknacks. I'll definitely visit again when I need gifts to take home to friends and family.
We hope Richard has an amazing two years studying in China!
Find out more about studying in China with INTO Higher. Or read about American student Jaila's experiences as an international student in the Chinese classroom or her review of street food in China. Or find out why studying in China is great for your career.
Join the INTO China Facebook community.