Wei-Hao's tour of the George Mason University campus
George Mason University's main campus, located in Fairfax, Virginia, spans a huge 677 acres and is just 25 minutes away from of downtown Washington, DC.
Student ambassador and INTO George Mason University expert, Wei-Hao from Taiwan takes over the blog to give us an e-campus tour of the eight Mason must-sees.
He's here to share his top tips for new international students on campus and everything he's learned while studying abroad in the US.
1. Your new go-to hang-out: The Mason Global Center
Q: Where is an obvious place for international students to start meeting people on campus?
A: "In this building, there are about 200 rooms for students to live. Also, there are some classrooms, office rooms, and a dining hall. In my perspective, the dormitories in this building are the best dorm at George Mason University because it will be very convenient. It only takes you less than five minutes to the class and dining hall. In addition, the front desk is open for students 24 hours, so the staff can help students solve problems even at midnight. Moreover, the food in this dining hall is the best on campus because this dining hall provides various kinds of food such as Mexican food, Chinese food, Korean food, Middle East food and so on, which means it's friendly to international students."
2. Spotted: Confucius on campus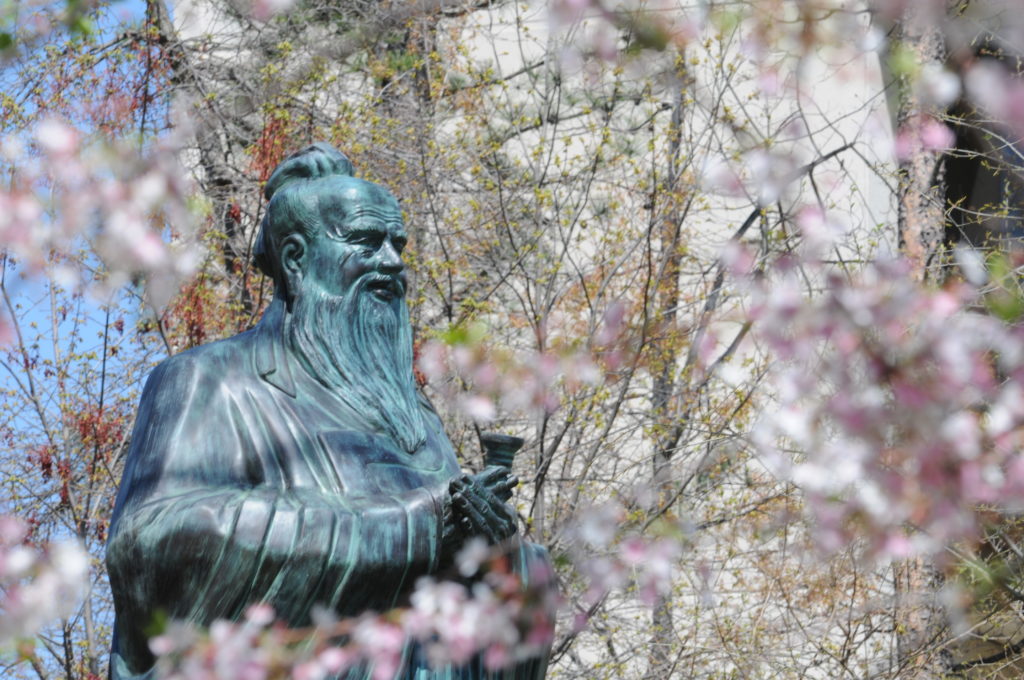 Q: Can you give an example of how George Mason values multiculturalism?
A: "This sculpture of Confucius, which was presented by the Confucian Academy of Hong Kong in April 2008, is located in Fairfax Campus of George Mason University and near to the building of the Center for Arts. Confucius was a Chinese teacher, editor, politician, and philosopher of the Spring and Autumn period of Chinese history. There are five most important aspects of his ideology: REN (benevolence), YI (righteousness), LI (courtesy), ZHI, (wisdom), XIN (loyalty). In the history of China, the dogmas he initiated, which are also known as Confucianism, have played a critical and role in traditional Chinese culture and dominated Chinese culture for more than 2,000 years. Furthermore, his concepts also influenced other Asian countries such as Korea and Japan profoundly. This sculpture is a symbol that in our university, multiculturalism is highly valued, and our university committed to foster a better environment of globalization. All students in our university are treated equally and enjoying a cultural integration atmosphere."
3. A founding (university) father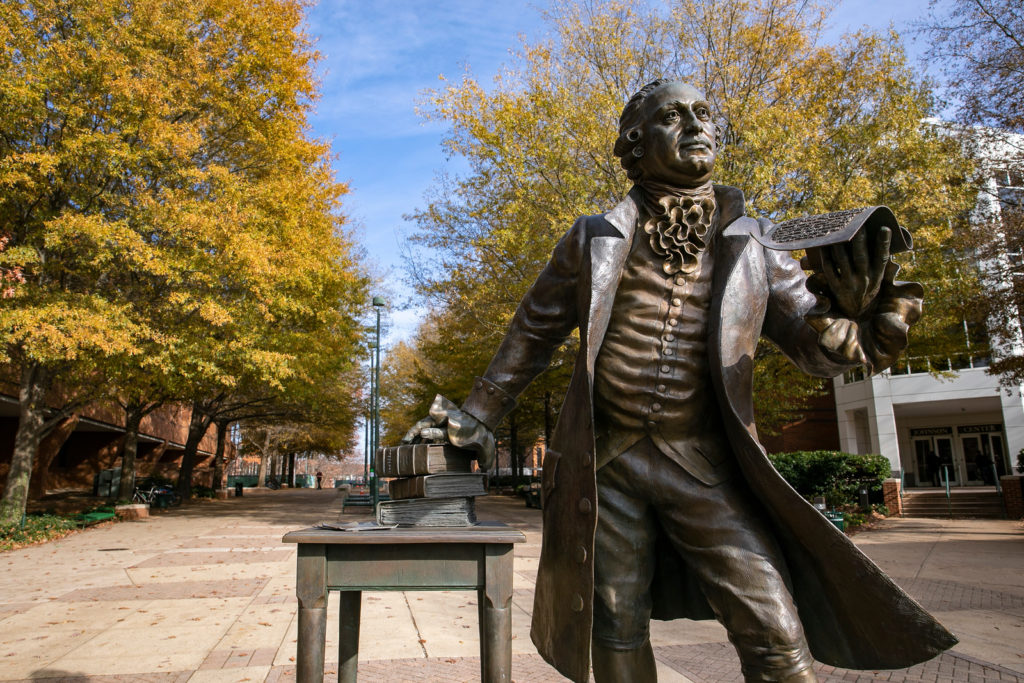 Q: You've told us about Confucius. Now, what is George Mason like? What did he do in American history?
A: "George Mason University is named after the founding father George Mason, an American politician. He has authored the Virginia Declaration of Rights, the basis for the US Bill of Rights. In addition, there is an exciting story here. My friends told me if you stepped on his introduction board, you need to touch his foot, or you will be unfortunate. Moreover, there is a famous photo attraction, so I usually see people taking photos with him."
4. Professional productions without the price tag
Q: Where would you go for a fun, free activity on campus?
A: "It [Center for the Arts] opened on October 6, 1990. There are various kinds of performance for people watching such as dance, opera, symphony, chamber music, orchestral music, jazz. They are performed by professional artists or Mason student and faculty. There are about 2000 seats for watching performances. Every week, There are hundreds of people who come here for concerts. If I have time, I must go there watching performances. In this November, There was an opera performance performed by Virginia Opera, Don Giovanni. It was the first time I watched opera…Original ticket is 100 dollars, but students can view the performances for free. Students can enjoy amazing performances without spending any money. I think it is an excellent opportunity for students to touch the arts."
5. Working on your fitness at the RAC
Q: Is it easy to get to the gym (a.k.a the RAC) on campus? How popular is it?
A: "It is very close to the Mason Global Center. It takes no more than five minutes to walk from Mason Global Center to RAC, so there are many INTO Mason students. Mason students can enter for free and only need an ID card. There was often so packed that I couldn't find fitness equipment to work out. In addition, there are basketball courts, racquetball courts, squash courts, a couple of table tennis tables and fitness gallery. You can borrow basketball table tennis and other sports tools. Moreover, there is some fitness class such as Yuga, Tai Chi, Zumba, and Pilates."
6. Get your snack on at the Johnson Student Center
Q: What do you find at the Johnson Student Center?
A: "In this building, there is a bookstore so students can buy textbooks, stationery and Mason's clothes. It should be noted that they would be on sale in every festival, so students should buy commodities at the time. Also, there are some restaurants. For example, I can eat burgers, noodles, rice, pizza, and bread. My favorite is Chipotle. It is a Mexican restaurant. Their food is very cheap, and the portion is enormous. I like to buy Chipotle tacos and a cup of coffee by Starbucks to be my lunch. Moreover, many events held here, so I think Johnson Center is the most popular place at George Mason University."
7. Stay connected at The Hub
Q: Where do you go to stay involved on campus and stay in touch with people you miss from back home?
A: At the hub, "there is a mailroom, and students can receive letters and mailbox here. It is very convenient for students who live on-campus and students who are very busy and have no time to go home to get their stuff. Besides, there is an office called Student Involvement. Students can get information about student organization, activities and ask free movie tickets per week in this office. Moreover, students can play billiard and table tennis in Corner Pocket, which is an excellent place for students to have fun and recreation."
8. The limit (for studying) does not exist at the Fenwick Library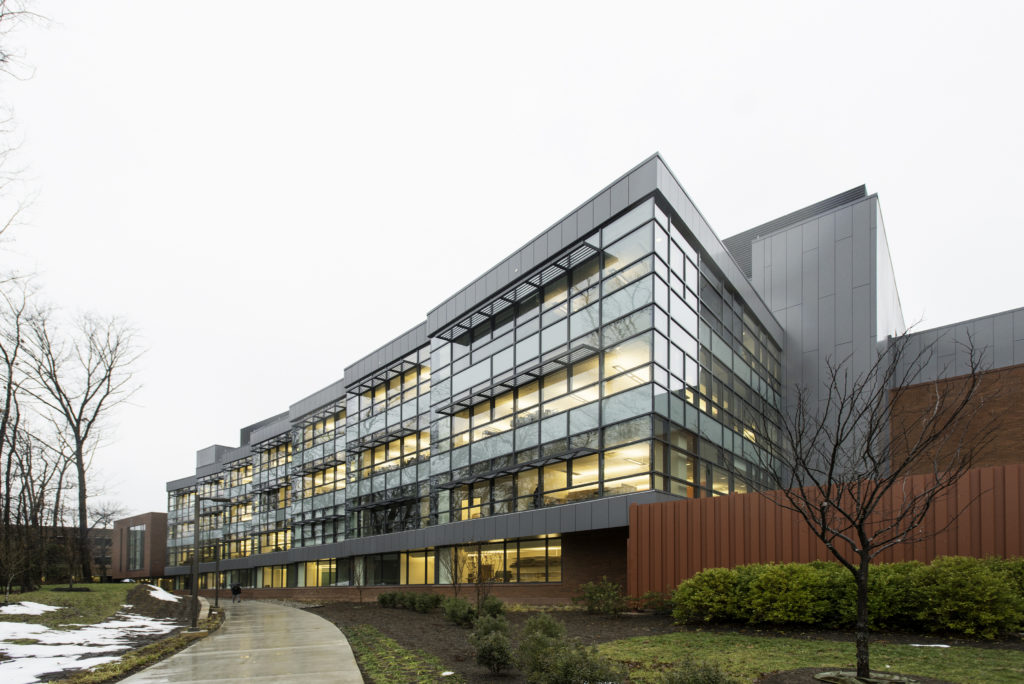 Q: What is the Fenwick Library like? Does it work with your busy schedule?
A: "The lobby of Fenwick Library is open for 24 hours a day, and there is an Argo Tea Cafe in the lobby. There are five floors in this library, which provide students with an excellent space to study. Also, on the fifth floor, there is a quiet space designed to give graduate students to do research and writing. In addition, there are many group study rooms and presentation practice rooms with whiteboard or television, which are designed to allow students to have space to do group discussion or rehearsal their presentations. Moreover, in this library, there is a tutoring space for the Writing Center, which can help students to solve problems in writing such as grammar mistakes. In short, the library can help students to improve their academic performance."
For more inside looks at George Mason University, check out our virtual tour.
If you'd like to learn more about studying at INTO George Mason University, visit our website.
To stay up to date with student life at INTO George Mason University, make sure you follow us on Facebook, Instagram, YouTube and Twitter!