RISE to the research discoveries at Drew University
At INTO Drew University, you can have real-world lab research experiences that most students won't get until attending graduate school or working in the professional world.
Drew University offers one-of-a kind research programs, RISE and DSSI, to ensure that you learn the necessary skills that you'll use on the job.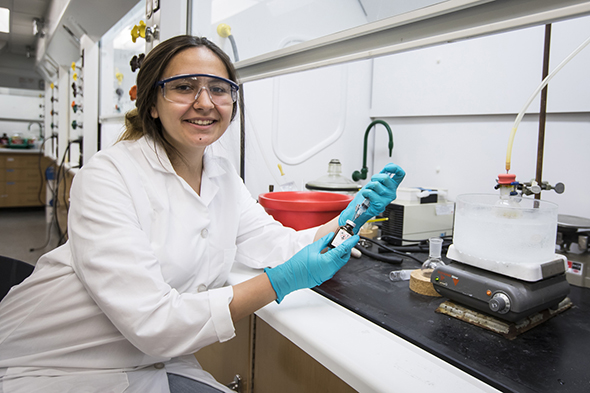 Through these programs, science students are paired with star industry experts and professors. Not only will you have access to industrial-level research facilities, but you'll graduate from Drew University with mentors who are ready to help you kick-start your career.
During her first year at Drew University, Liubov has worked on research with RISE fellows and professors. Read more to learn about her experiences as a chemistry student at Drew University. You won't want to miss out on her advice!
How did you get involved in Drew's RISE program?
"When I was freshman, because I went to a Russian high school, I was already familiar with organic chemistry. So when I came to the RISE fellows and I saw that Dr. Gullo was doing organic chemistry research, I told him that I'm really interested in organic chemistry and what I was familiar with already. He was surprised, so he accepted me in his research."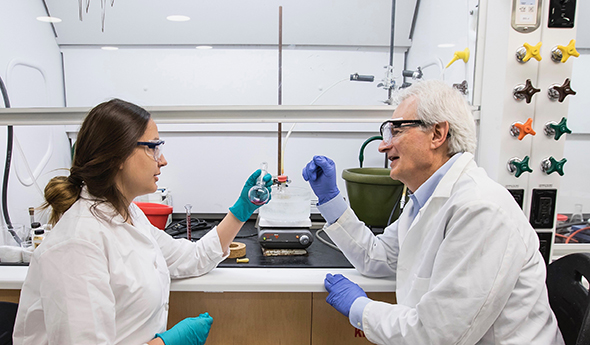 Can you tell us more about the research you're participating in?
"I was participating in Dr. Gullo's research for three years, working on novel antibacterial compounds. Antibiotic resistance is a big topic nowadays. In his research, Dr. William J. Houlihan found about 400 compounds for inhibiting cocaine euphoria and weight gain. Thirteen of these compounds with similar structures had antibacterial activity. In this research, my peers and I have been working on designing synthetic analogs of the compound. At the moment, I joined Dr. Pearsall's research lab where we are working with Triosmium clusters!"
What skills have you gained in the RISE program that will help you in the future?
"In [the] future, I'm planning to become dentist. I was working with Dr. Gullo because of my own interests and because I like the subject, organic chemistry. The lab skills I've gained will help me in future to be more precise in dental techniques, but another very important skill I gained was critical thinking. Being able to analyze NMR, LCMS spectra, looking at antibiotic efficiency of the compounds I would synthesize in Dr. Gullo's lab contributed a lot to my ability to be assertive and independent."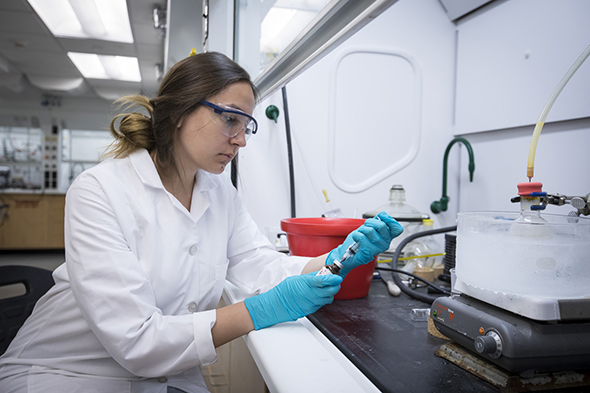 How is Drew's chemistry program different from others?
"Chemistry and different subjects at Drew University are being studied way more in depth in comparison to other schools. Drew has a variety of courses offered and the lab experience adds so much to the understanding of the subjects. One of the most amazing things about the labs at Drew is the variety of the instruments we are able to work with. The skills we gain when using the equipment contributes a lot to our future career paths. Chemistry is a tough subject, but it's worth of learning especially at Drew."
What advice do you have for students who want to get involved in RISE or DSSI?
"The key to success is expressing your interest and taking initiative by starting conversations with your professors. When I started out, I didn't think that I would succeed, but Dr. Gullo made me much more confident in my knowledge and skills and I will always be grateful for that."
Did you have any other mentors?
"I was in the INTO program during my first two years at Drew. My Academic Coach, Michelle, would always cheer me up and help me with organizing my schedule. She would always give me advice on which courses is better to take during each semester. That was very fascinating to me because she didn't study science, but she always knew which courses would be better for me to take on my path to becoming a dentist."
Do you participate in any other extracurricular activities?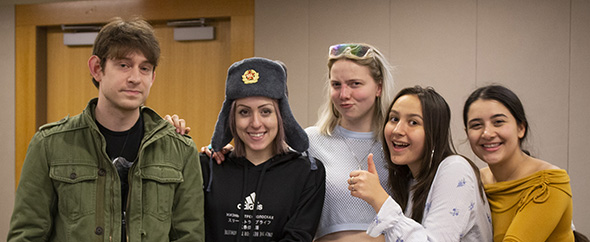 "My best friend Francesca and I founded the Drew Russian club. In this club, we would teach other students about our culture: Russian cartoons, music and slang. We would even bring some Russian food to our meetings, but of course the main part was teaching the language!"
Would you recommend Drew to other students? If so, why?
"I would recommend Drew because it's a liberal arts college, you can do a lot of things at once. I'm a chemistry major and at the same time double minoring in studio art and biology. At other colleges, you can only focus on your major and that's it. At Drew, you can do as many things as possible. It's also a small college and professors know you personally. The professors have a lot of office hours. You can always come by and ask them questions when you don't understand something. If you feel nervous about a certain subject or your grades, you can talk to them and they'll take the time to sit down and listen to you."
Want to hear more about what its like to study chemistry at INTO Drew University? Listen to Sheryl's story.
Find out more about Drew University on our website.
Stay up to date with student life at INTO Drew University follow us on Facebook, Twitter, Instagram and YouTube.