Kevin's twelve-month work placement in the US
A work placement will put your learning into practice, giving you first-hand, practical experience in your desired industry. You may even be offered a job at the end!
Kevin from Hong Kong studied BA (Hons) Hotel, Resort and Tourism Management at the University of Gloucestershire and he is now in his fourth and final year.
Kevin decided to complete a twelve-month work placement as an opportunity to develop his career during his degree.
We got in touch with him and asked some questions about his fantastic opportunity in America!
How did you get your work placement?
Every year, companies with placement opportunities visit the University, providing presentations about their business. If you are interested in completing a work placement, you can stay behind for an interview.
I listened to several companies and stayed behind for interviews, which were successful.
I chose Marriott Hotels because they could offer me a work placement at a large hotel with a thousand rooms – in Austin, Texas, America!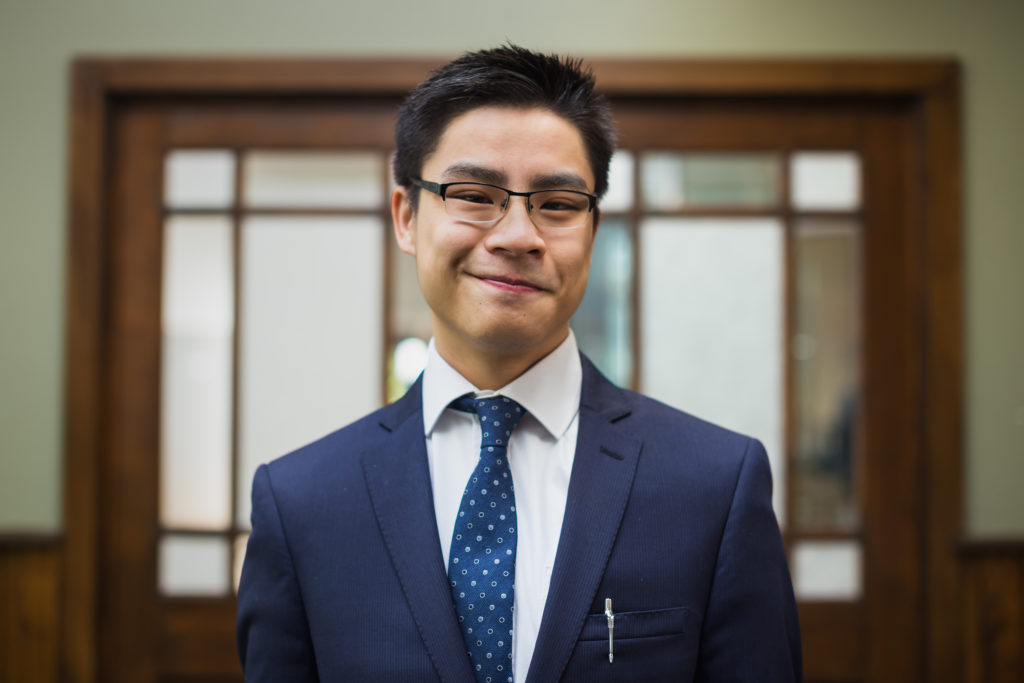 How did the University help and support you?
The Future Plan Team helped me to organise and complete the documents needed for my work placement, including my visa. The Team were always available to answer my questions and support me.
During my placement, a member of the University staff even came to visit me in my role and check that everything was ok.
What were your roles and responsibilities during your placement?
I was involved in several different roles to get as much experience as possible. This included working as an At Your Service representative, meeting and greeting guests and showing them to their rooms.
I also worked as a Front Desk Leader, answering the telephone and dealing with customer queries. I enjoyed this role, and because I showed very good leadership skills, they created a new position for me as Night Audit Leader!
What skills did you learn?
I had to cope with lots of different situations in the hotel and deal with difficult customers, which developed my problem-solving skills as well as my customer service skills.
Working with lots of different people, across different departments in the hotel, I also developed my team working skills.
Most of all, I gained confidence during my work placement because I had to learn to live independently in a new country and adapt to their culture. 
You won two awards during your placement. Congratulations! What were these for?
I won the 'JW Best Award', which is the highest recognition award in the hotel and recognises employees' work contribution to the hotel.
I also won a 'JW Standing Ovation' because I delivered great customer service to some hotel guests.
What are your plans when you finish your degree?
Marriott Hotels have offered me a position in Austin, Texas in America!
I would like to join their 'Voyager programme', which is a leadership fast-track programme. After 18 months I will be a manager!
What advice would you give to students thinking about doing a work placement?
A work placement is a great experience and I would recommend it!
Research doing a placement early and contact the Future Plan Team as they will help and support you. Also, talk to students returning from placements as they can give their advice and share their experiences.
Watch the video below and join a live tour around the new Business School at the University of Gloucestershire with Kevin.
If you enjoyed finding out about Kevin's work placement, keep your eyes peeled for a new post coming soon! He'll be talking about his role as a Senior Resident, supporting students with welfare concerns and maintenance issues.
To learn more about studying in the UK, click here. If you're interested in studying at the University of Gloucestershire, please speak to your Education Counsellor.
You might also like to read about Claudia's placement journey with D14 Design Consultancy.