Student Experience: I did the Great Manchester Run
INTO isn't just about studying – many of our students achieve impressive things in their spare time too. INTO Manchester student, Huidong Kim from South Korea, tells us about his experience of The Bupa Great Manchester Run…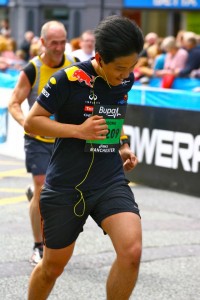 Huidong: I have a passion for running and do five kilometres every day. When I saw a banner promoting The Great Manchester Run, an annual 10km event, I knew that I wanted to sign-up.
The event was busier than I expected – some people were wearing funny costumes but there were also famous runners from the UK and abroad. Over 40,000 elite and amateur athletes came together for the day.
I loved the route as it included key sights in Manchester, like Old Trafford football ground. I completed the run in fifty minutes, fifty two seconds.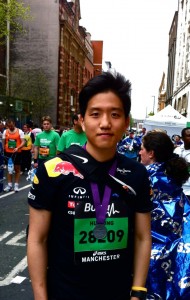 Most people are reluctant to take part in running events as they think it'll be too difficult. However, once you've done one you'll see how addictive they are! When it comes to endurance, pain equals joy.
The famous cyclist Lance Armstrong once said: 'Pain is temporary. If I quit, however, it lasts forever'. The Great Manchester Run was a special challenge that I'm definitely going to do again next year – I invite you all to join me!
Meet more INTO Manchester students on Facebook, or read first-hand accounts of their experiences here.