A top study destination in China
China is a diverse and exciting country, which will give you the chance to immerse yourself in a totally different culture while you study for a degree or Master's at one of its top universities.
Here we take an inside look at one of our top study destinations, Tianjin. Tianjin is a wonderful city in coastal north-eastern China, highly recommended by students.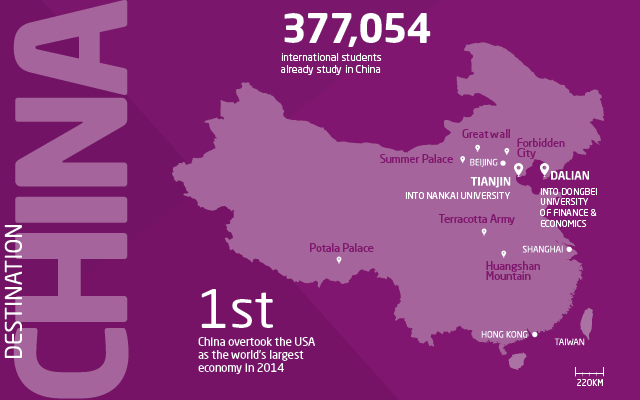 In this exciting location, you'll find an established international student community, and together, you'll enjoy a once-in-a-lifetime experience. Start an adventure that you'll remember forever!
Often referred to as Shanghai of the north, both because this economic powerhouse has been growing at incredible speeds just like Shanghai once did, but also because of its foreign historic, cultural and architectural heritage.
This slideshow requires JavaScript.
This means it's home to many former British and French government buildings and villas in downtown Tianjin.
The city was formerly divided between several countries into what they call concessions, so different districts have a distinctly different feel to them. It's beautiful!
Top 8 sights to see in Tianjin
• Tianjin Eye
• Italian Style Street
• French concession
• Jinwan Plaza, Haihe riverside
• Binjiangdao shopping street
• Water Park
• Nankai University main campus
• Drum Tower
Tianjin highlights
Climate
January can be cold and dry, as low as -4 C (25 F). This also means the air is crisp, the sun is out and skies are usually blue with no clouds in sight.
Mid summer is in July, and although the air can get humid and temperatures 30+C (86+F) are not uncommon, it's the perfect time for evenings in parks, terrace bars and outdoor BBQ restaurants loved by the locals and expats alike.
Shopping
Joy City – a huge shopping centre where you can track down European fashion
Carrefour – several food supermarkets around the city
Dahutong market – Tianjin's largest market, consisting of a maze of stalls filled with trinkets and treasures
Arts and culture
Tianjin Beijing Opera House – enjoy the spectacle of the costumes and the storytelling
Porcelain House – a landmark decorated entirely from broken porcelain, and museum of pottery and antiques too
Nankai University – a peaceful oasis situated right in the heart of Tianjin
Tianjin Museum – housing fascinating artefacts significant to the city, and an architectural wonder in its own right!
Sports and leisure
Olympics Sports Stadium – the venue to watch big sport events and touring music concerts
Shuishang Waterpark – lots of amusement rides, green areas for picnics and even a zoo
People's Park – a gathering place for locals as well as visitors. A pretty area to meet with friends
University societies  – heaps of student activities and clubs to meet new people
Food and drink
Sha Guo Li – simple pork dishes, served in a vibrant, busy atmosphere
Seven Pattra Leaves – vegetarian Chinese cuisine!
Pizza Bianca – a posh pizza eatery, with a big range of delicious toppings

Excellent transport links to other places of interest
Tianjin is a very well connected city offering easy access to the metro and bus network.
Don't worry too much about your Chinese language skills, the metro is clearly signposted and easy to use!
Most other cities in China can be accessed by high-speed train or plane and public transport is really cheap.
Tianjin international airport is located on the outskirts of the city and offers direct flights to Japan, Korea, Thailand, Hong Kong, Macau and Taiwan – very convenient if you love to explore!

Day trips you have to try:
• 30 minutes to Beijing by bullet train
• 2-3 hours by bus/car to mountains in Jixian County (great for outdoor sports!)
• 4 hours by train to Mount Tai
• 2-4 hours by train to some beautiful beaches at Beidaihe and Qinghuangdao
Have you decided where you'd like to start your adventures in China? Looking for more details on our two top study cities?
Just drop us a question in the comments below, or get connected and ask us on Facebook.
In the meantime, why not prepare with the Survivor's Guide to China, hear from Tommy on what moving to China is really like, or read up on moving to Tianjin by student Ryan?