What's studying online really like? UAB students tell all
Studying online has only been getting more popular in the last decade. Being able to learn from the comfort home with a flexible schedule was always appealing before.
Now, it gives you an option to stay on track with your degree and your career plan during the global pandemic if like many, you're impacted by COVID-19 related travel limitations.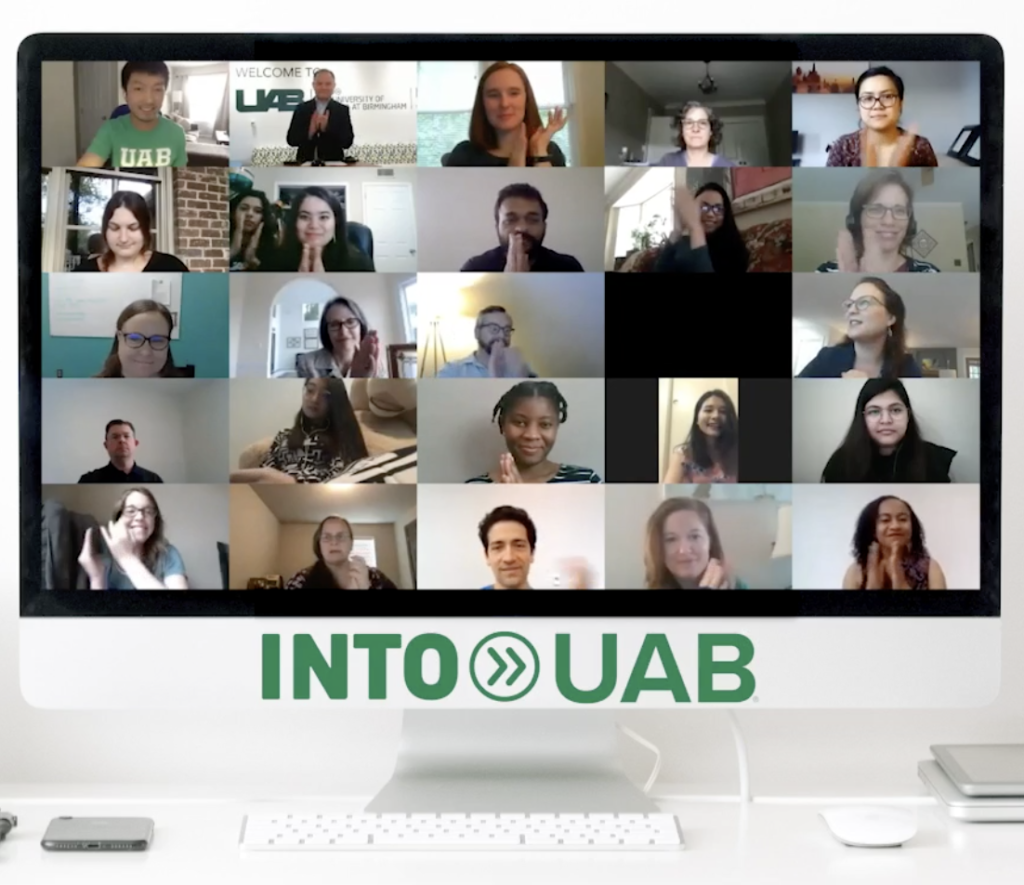 Maybe you've been going back and forth on whether you should start your program online sooner rather than later. Recently, we had a video call with students from INTO UAB to get the international student perspective on studying online. We asked them what they've enjoyed most about studying online, what challenges they've faced, how available professors have been and much more.
Read on to get your must-asked questions about studying online answered by Sidqi from Indonesia, Jose from Panama and Santosh from India.
What have you enjoyed most about studying online?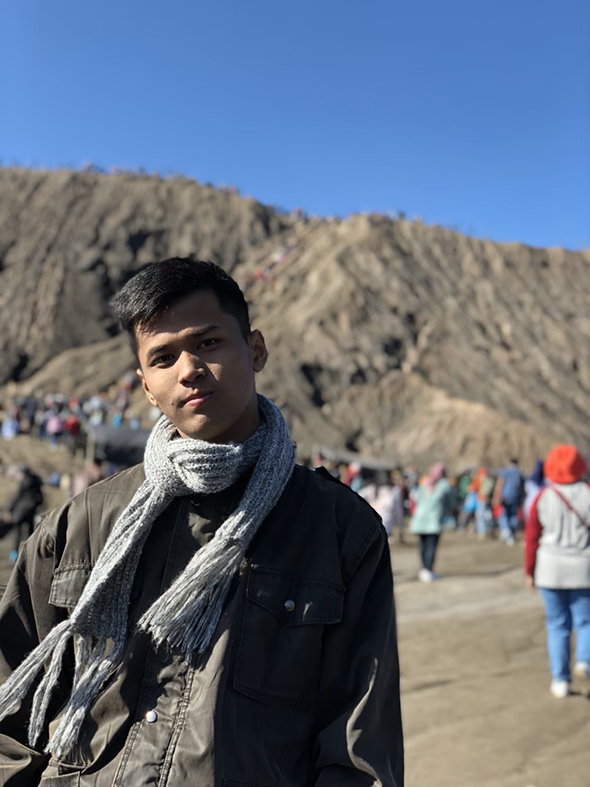 Flexibility

"Online is way easier because it is very flexible. My professor [is] in the learning resource center, we got teaching assistants and international mentors. Our mentors help a lot because they do like [a] meeting per week. We talk about everything we want. And they do games too so it is not boring, it's fun."

Sidqi from Indonesia, MBA Graduate Pathway Program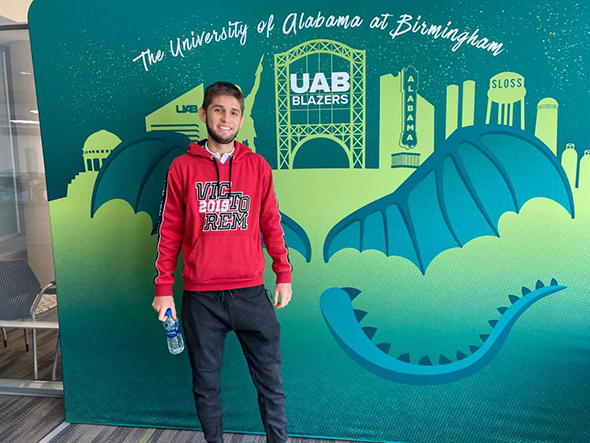 New technology
"I've learned very much about how to manipulate technology. Before COVID, I did not know anything about zoom or how to use one drive. So, this is one thing I have enjoyed very much to be able to learn more things about technology and the computer. Also, I do not have to go to classes face to face. I can do whatever I want with my time. I can do it in the morning or at night and go out with my friends. So this is one of things I have enjoyed most with the online experience."

Jose from Panama, International Year One in Engineering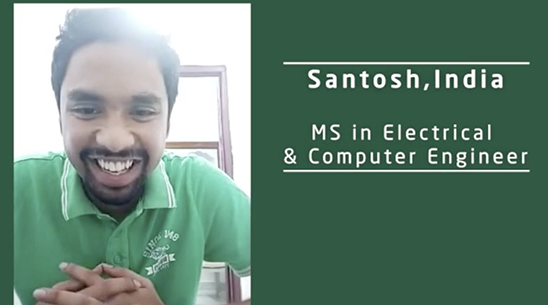 Learning from home
"I am liking online classes. When I feel like going to the professors, they are available. And everything is in the zoom meetings sitting in my own room and it's been nice."

Santosh from India, Master's in Electrical and Computer Engineering
Share the toughest challenge you faced with studying online.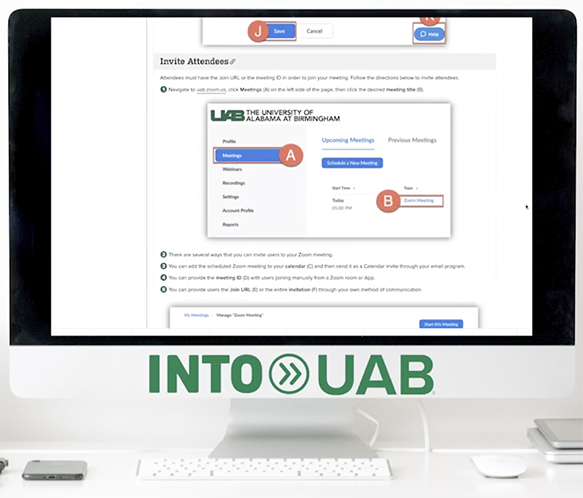 Learning new platforms

"It is hard sometimes to [adjust to] new things like new website and new applications. We have to learn from scratch from zero. But as long as we can get along with it I think we can do the best."

Sidqi
Time management
"It has been difficult to manage time. I want to do many things, but I have to do my assignments."

Jose
Time zones
"The classes, like the timings, are a bit different over there. Like now, it is like 9:12pm in the night. Actually it's not a tough challenge for me. Concentrating can be difficult you know. But, that's not a problem. I have two years experience at this company S&P global and I have been working at night. So that's not a problem. I got used to night shifts, so it's ok for me."

Santosh
How have you connected with professors during online classes?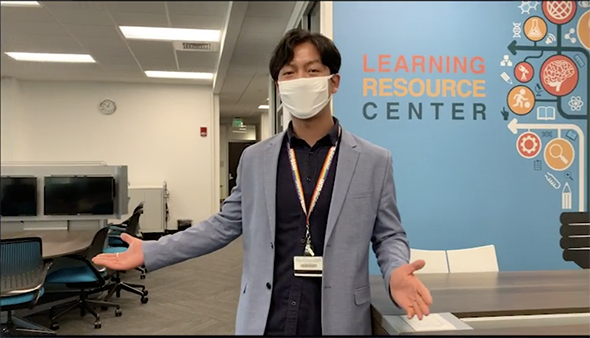 Email and Canvas app

"For professors it's easy to contact them through email…And then we can contact in canvas. Canvas is an application, an all-in-one application. We did quiz, we did exam and final exam all in one place. The professor, the lecture, the doctor are all really amazing. They teach me and they teach us their different kind of teachings and it really helps."

Sidqi
Clear communication
"I think the professors are very prepared… The communication is great because they talk with you from a private room. The communication is great, really great."

Jose
Career advice
"I had a conversation with my professor and he has suggested me to go for some internship over here where I am staying so it could add to my résumé. They are giving me guidance of how to develop my career."

Santosh
Would you recommend UAB online classes to future students?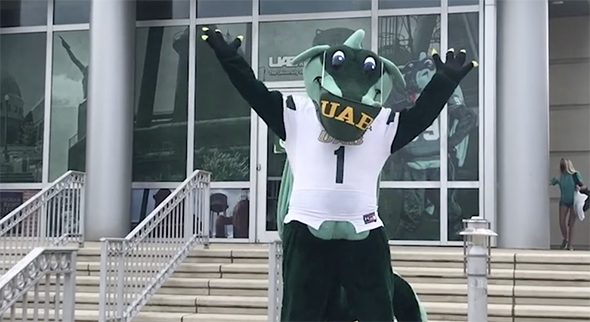 Start now and start early

"Yeah I am really open to do more online classes in the future, but I really hope to make it there in the US obviously. Maybe next year. I want to meet everyone in person with social distancing of course. For now, we are good. Even though we cannot meet in person, we can meet virtual online with zoom or several online programs. But during these unprecedented times, online classes are the best because time is moving on. So, I think it is better to start early and then after that, maybe we can go to the US."

Sidqi
A great new experience

"I would totally recommend to anyone to take online classes because it is a new experience and it can teach you many new things you know. INTO is doing great work with this. So my only advice is to keep [up] with the hard work."

Jose
How do your parents feel about studying online?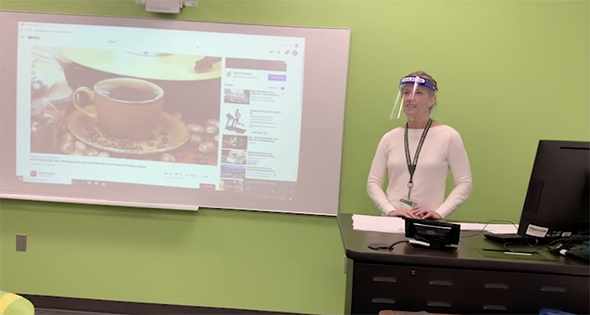 Overwhelming support

"They have supported me from the beginning. They told me to begin with online. They support me with the online classes. We're hoping next spring we will be able to be in the university."

Jose
You may also like to read Studying and working abroad: the rewarding experience of two UAB graduates or 10 steps to becoming a Birmingham local.
To stay up to date with what's going on in center, follow us on Instagram, Facebook or check out our YouTube videos.
Want to study at The University of Alabama at Birmingham? Click here to learn more and apply for a course.