Inside INTO: A day in the life of a Housing Coordinator at INTO CSU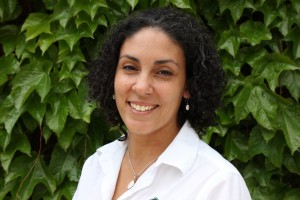 Ever wanted to know more about the INTO team and what we do? In the first installment of our Inside INTO series, Kate Wormus, Housing Coordinator at INTO Colorado State University tells us about her daily role…
Hi, I'm Kate, the INTO CSU Housing Assignments and Arrivals Coordinator. I'm responsible for creating a "home away from home" for INTO CSU students. Whether they chose to live in a residence hall or an apartment, it's my job to help them find the right place to stay and to get settled in.
Most of the time I'm in my office at Spruce Hall, but I'm also often seen around the residence halls and apartments. I have three wonderful staff members to help me in my role: Kaitlyn, Roxy, and Tony and they all work with me to help students stay comfortable.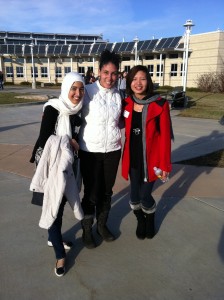 My daily role might include greeting new arrivals at the airport, preparing their room for them, getting them involved in fun activities, showing them how to get to the grocery store, or just being there as a friend when they're feeling homesick. Generally, I'm here to make sure that students have everything they need. I love making people comfortable so they can enjoy their time at INTO.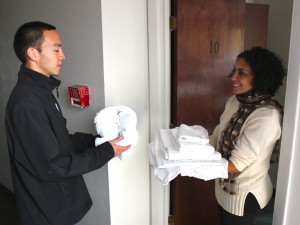 I've studied abroad too, in France and Canada, so I understand what it's like being an international student. I know that it's about much more than writing papers, taking tests, and learning the language – it's about the experience.
It's true that when students come to INTO CSU, they'll definitely learn English because our teachers are wonderful. But there's also a lot more to the experience than that – they'll get to make new friends, try American food (even the stuff that look gross at first!), go on adventures, take risks, laugh abundantly and have some of the best times of their lives.
At weekends, I like to spend my time outside (like every other person in Colorado) or hanging out with my two sons, Braden and Evan. I love my job because every day I have the opportunity to watch INTO students learn and grow, and I get to help them make the most of their experience. It's really rewarding.
Read our Q&A with Wayne from the INTO CSU teaching team.
Find out more about studying at INTO Colorado State University.