INTO News: CSU is a winner with international students
What do international students look for when choosing a university? Rankings aside, a recent survey suggests there are thirteen important factors that contribute to a top international study experience, and INTO's newest partner, Colorado State University, comes in the US top 2 in all of them.
According to the survey, Colorado State University is one of the world's top locations for international students. The poll proves that they love the stunning setting, expert lecturers and quality of housing offered by the Fort Collins-based university.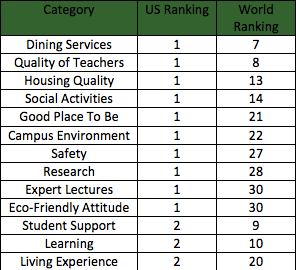 The survey, by International Student Barometer, ranks CSU third in the US and ninth in the world for international students' overall satisfaction with their educational experience.
Leading figures at the university were delighted by the news. 'The results are even more impressive considering that this is the first year that CSU has participated in this international survey', said Jim Cooney, Vice Provost for International Affairs. 'This really sets a benchmark for CSU in the future'.
CSU student Alejandro Vega from Chile said, 'CSU has very good programs, professors, and infrastructure and great friends can be found in your classmates. CSU is a very good option to consider first for students coming from abroad.'
We love this video made by students at Colorado State University, who explain their own top ten reasons why it is a great place to study:
Don't forget to join the INTO CSU community on Facebook!