10 Questions, 1 Teacher: INTO CSU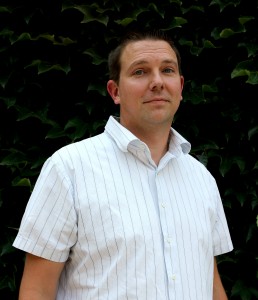 As part of our 10 Questions, 1 Teacher series, we caught up with Wayne Walker who teaches English at INTO Colorado State University.
1. What's your teaching style?
Being communicative is very important for a language teacher, so my teaching style is informal and open. I like the students in my classes to be relaxed but active at the same time.
2. What do you like most about your job?
The fact that I constantly get to meet new people from different countries and cultures. Like I said, I love communicating and sharing new ideas. I love that students are always learning and that I'm also always learning. The fact that I'm always learning new things is probably the best part of my job!
But the biggest thing I learn from my students is that people can do amazing things. Every day I'm amazed that these international students come to the US to learn a new language. I realise how amazing they are because it's really challenging to do that.
3. What would you be if you weren't an teacher at INTO?
I really don't know because teaching is the only job I have really loved. I was a baseball coach before so maybe that, but I can't really imagine it. I love teaching too much.
4. What was your favorite subject at school?
I was very good at math, that was probably my favorite subject. When I was in college, my favorite subject was philosophy. Reading and thinking about logical ideas was really enjoyable for me.
5. What's the best thing about Fort Collins? (location of INTO Colorado State University)
Fort Collins is a great city – the best thing about it is that it's neither too small nor too big. I love that it's a university town as there are a lot of activities, concerts, films, speakers, and people from all around the world in one place. The best thing about Fort Collins is that there's always something interesting to do.
6. What do you enjoy doing in your spare time?
Right now I have two sons, a 4 year-old and a 1 year-old, so the best thing to do is just play with them. I like to be with my family and have fun with my sons. It helps me feel young again.
7. Which book are you currently reading?
I just started reading a book called A Heartbreaking Work of Staggering Genius by Dave Eggers. It's a memoir about his childhood and his brother. I just started it so don't know if it's good or not yet.
8. Have you ever studied abroad?
I taught English abroad in Europe for four years. In a way I did study abroad, but not formally at a university. I learned a language while I lived there and it was a great experience. I loved living in another country and learning another language.
9. Describe an average day of teaching in three words.
Preparation, communication, reflection.
10. What one piece of advice would you give to international students?
The best advice I can give to any students coming to study English in America is to take advantage of being here. You can study English in your country but when you come to America you should take advantage of the many resources here. Meet as many people and go to as many activities as you can because those are the things you can't find in your own country.
The English Program at Colorado State University has been here for a long time and we have lots of really great teachers who are constantly working to improve it. We have a lot of staff who are very dedicated to making it a good, quality program so it can only get better.
I just want to tell any students who are considering coming to INTO Colorado State University that we welcome you, we look forward to meeting you, and we look forward to helping you improve your English so that you can study at the university.
Find out more about studying at INTO Colorado State University.
Read more about studying in Fort Collins and accommodation options at Colorado State University.